Indian Premier League (IPL) is the biggest league, and MS Dhoni and Rohit Sharma are the two biggest superstars in the league. Both are the part of IPL since 2008. Even MS Dhoni was the captain of his franchise Chennai super kings for 14 seasons. And Rohit is the captain of Mumbai Indians since 2014. MS Dhoni played a total of 221 matches in IPL yet and while Rohit Sharma completed 214 matches in IPL. Check Rohit Sharma vs MS Dhoni All Records comparison in IPL till now.
Rohit and Dhoni are not only terrific batsmen. They are both the most successful captains of the Indian Premier League. IPL completed a total of 14 successful seasons yet, out of which they both combined won 9 seasons. Both the players have their names on many record lists. Today we are going to compare both MS Dhoni and Rohit Sharma on the basis of their records in IPL from 2008 to till now.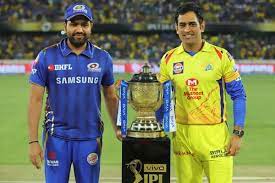 Record comparison of Dhoni and Rohit
Runs in IPL
MS Dhoni has a total of 4,796 runs in 221 (194 innings) matches with an average of 39.97 and a strike rate of 135.79. He has 24 half-centuries and zero centuries. The highest score in an inning is 84.
Rohit Sharma scored a total of 5,652 runs in 214 matches (209 innings) with an average of 31.23 and strike rate of 130.38. Rohit scored 40 half-centuries and 1 century. The highest score achieved by Rohit Sharma is 109*.
4s and 6s in IPL
Dhoni has 320 fours and 220 sixes in IPL he is number four in terms of hitting most sixes in IPL after Chris Gayle, AB de Villiers, and Rohit Sharma.
Rohit Sharma smashed 495 fours and 229 sixes in his IPL career. He is 3 on number 3 in the list of most sixes in IPL after Chris Gayle and AB Devilliers.
Man of the matches
MS Dhoni got the man of the match award 17 times in IPL. While Rohit Sharma got man of the match 18 times in his IPL career. Both are in 4th and 3rd position respectively in terms of getting the most man of the match award in Indian Premier League history