Following the tragic passing of Kobe Bryant, TSN's Gilbert McGregor reflected on a personal history he had with the all-time great. Two years later, he relives McGregor's unforgettable interaction with the Hall of Famer.
I don't want to believe this.:
That's the only thought that came to my mind when I first found out that Kobe Bryant was involved in a fatal accident.
Two years later, I still have a hard time accepting it.
Like many, I have had trouble processing the pain of losing someone I didn't really know.
But then I thought about it.
As fans of the game, we all knew Kobe in one way or another. From near or far.
---
For me, the story begins when I was much younger.
I was born in 1994 and for the first 18 years of my life, my father was a broadcaster for the Hornets.
I immediately focused on the game.
One of the best parts of growing up in the NBA was going to the games, the shots and whatever else I could do.
One of the hardest parts of his job was being away for days or weeks, but he often brought something back from one of his many stops along the way.
So words couldn't express my elation when he returned from a Western Conference road trip in a gold Lakers number 8 jersey, shorts AND a purple shooting jersey.
As a seven-year-old in that uniform, you couldn't tell me it wasn't Kobe. I even remember mustering up the courage to call a local sporting goods store to see if they had purple leg sleeves.
You know, like the one Kobe wore.
They laughed.
They didn't get it.
I just wanted to be like Kobe.
Fast forward to our move to New Orleans in 2002, where I became a ball boy a few months into our first season there. As an NBA hopeful and fan of the game, this is how some of the best years of my life began: I was lucky enough to be around some of the best players in the game, I even had the opportunity to interact with some of them.
How lucky am I that my most memorable interaction with any of them was with Kobe Bean Bryant?
It was December 23, 2008.
The Lakers were wrapping up a four-game road trip in New Orleans before heading back to Los Angeles for a Christmas Day finals rematch against the Boston Celtics. This season, Kobe was on a mission after coming up short in 2008, and his team entered the night with a 22-5 record.
On the other hand, I was a month away from tearing my labrum in my first college basketball game, meaning I couldn't play the sport I loved for the first time in my life.
He also relegated me to locker room duties as a ball boy.
No bounce. No passing. No pre-game time on the court with the best of the best. He was distraught.
Honestly, I couldn't do much, but being around the game kept me looking forward to the days when I could actually play again.
Once the game started, the Lakers were back on track as they earned their 23rd win of the season with 26 points, six rebounds and four dimes from Kobe.
(Yes, that's me. Out of focus in the lower right corner.)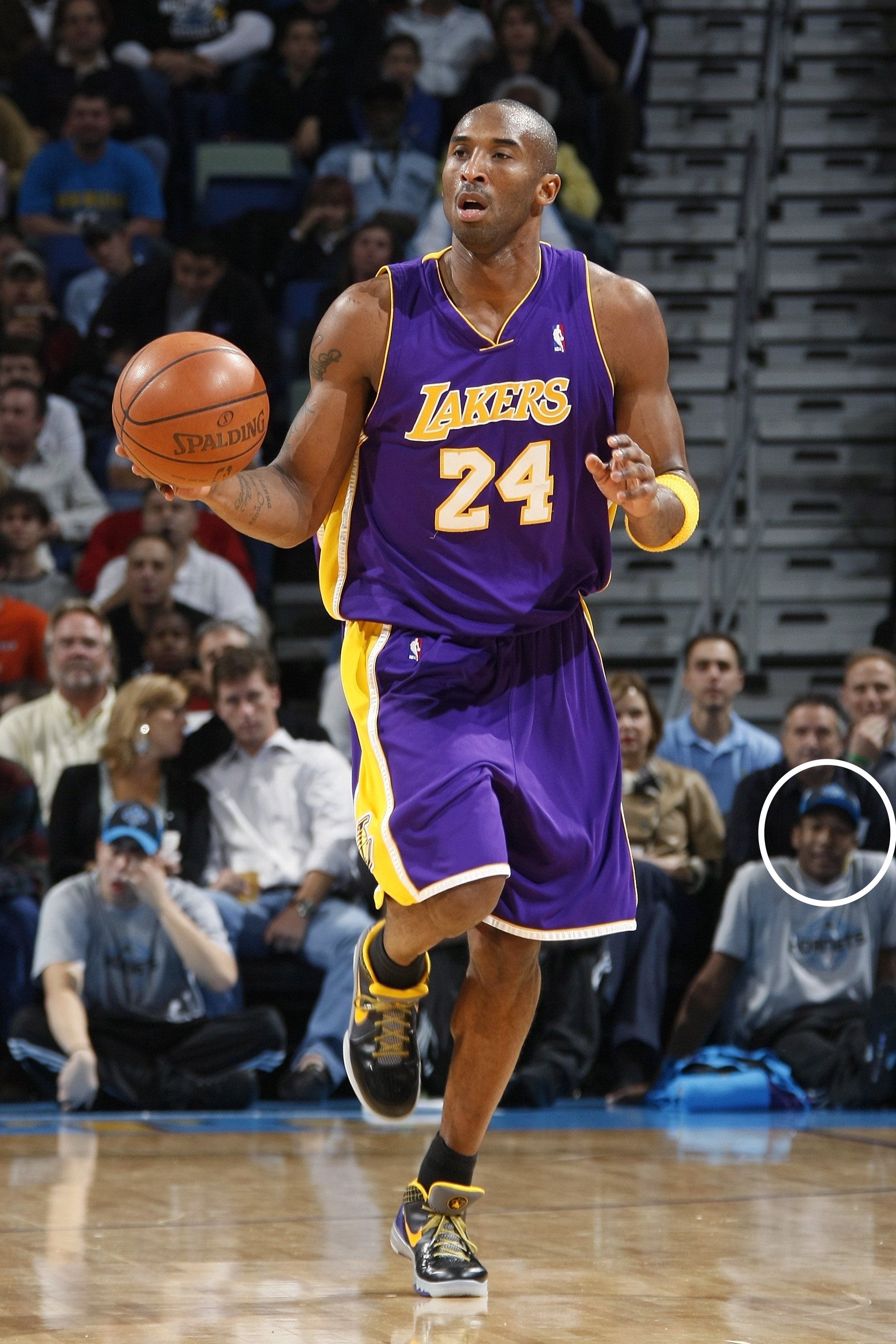 After the game, his locker room was quite the stage: I vividly remember DJ Mbenga and Lamar Odom joking about finally going home while every reporter in sight asked about the Christmas Day finals rematch with the Celtics that lasted less 48 hours. far.
In the midst of the madness, I hear a familiar voice projected in my direction.
"Hello, young man."
it's fine. That sounds like Kobe, but there's no way he was talking to me.
He was. And he doubled over.
"Hey, young man, I need you to do me a favor. If you can help me, I've got you."
Are you kidding me?
Whatever it was, consider it done.
Mind you, I'm 10 months away from All-Star Weekend in New Orleans, where the players generously gave us $100 if we could get all the participants to sign their game shoes before the night was over.
And this was not just any player. It was Kobe.
I would have done it for free.
So let's hear it.
"Can you make sure we have food in the back of our bus?"
What kind of food? How much? Where from? Just for him? For the whole team?
I didn't want to bother you with any more details, but my mind is racing and now I'm starting to get nervous. This wasn't grabbing a Gatorade or delivering a message or picking up a package, you know… typical locker room ball boy stuff.
Plus. This was Kobe Bryant.
The last thing he wanted to do was let Kobe down, even if he had no idea what he normally wanted after a game.
I knew the best thing to do was go directly to the adult in the room, the Hornets staff member who was tasked with running all operations in the visitors' locker room every night.
The stakes were high, so I stuttered a bit:
"So…I just uh…Kobe wanted to see if they could…uh…some food in the back of the bus."
Before I could finish my struggle to get the question out, I heard all I needed to hear: "Yeah, we're on it."
I felt like I had gotten in the clutch. Just like Kobe.
Now all I had to do was let him know it was done, and he has me. "He caught me"… what did that mean? I honestly didn't care. He had a reason to get close to Kobe without upsetting him. That honestly would have been enough for me.
Naturally, there was a bit of a crowd around Kobe as he prepared to head to the bus. He had his game shoes in hand.
I get his attention and let him know, "they're on it."
I got Kobe's nod of approval and he stopped to ask if anyone had a pen on them.
Now, at this point, my heart is already racing. I think I know what's about to happen, but you can never be too sure.
With a silver marker, he writes his signature on each of his sneakers, and just as he's about to hand them to me, he pauses.
Ahh… Who are you going to tell me to take this to?
"What is your name?" She asked her, followed by a semi-serious joke: "I'm not trying to see this on eBay."
There were a million things he wanted to say at that moment, each of which conveyed the message that he was about to give me what would immediately become my most prized possession.
All I remember my mind allowing me to say was "Never."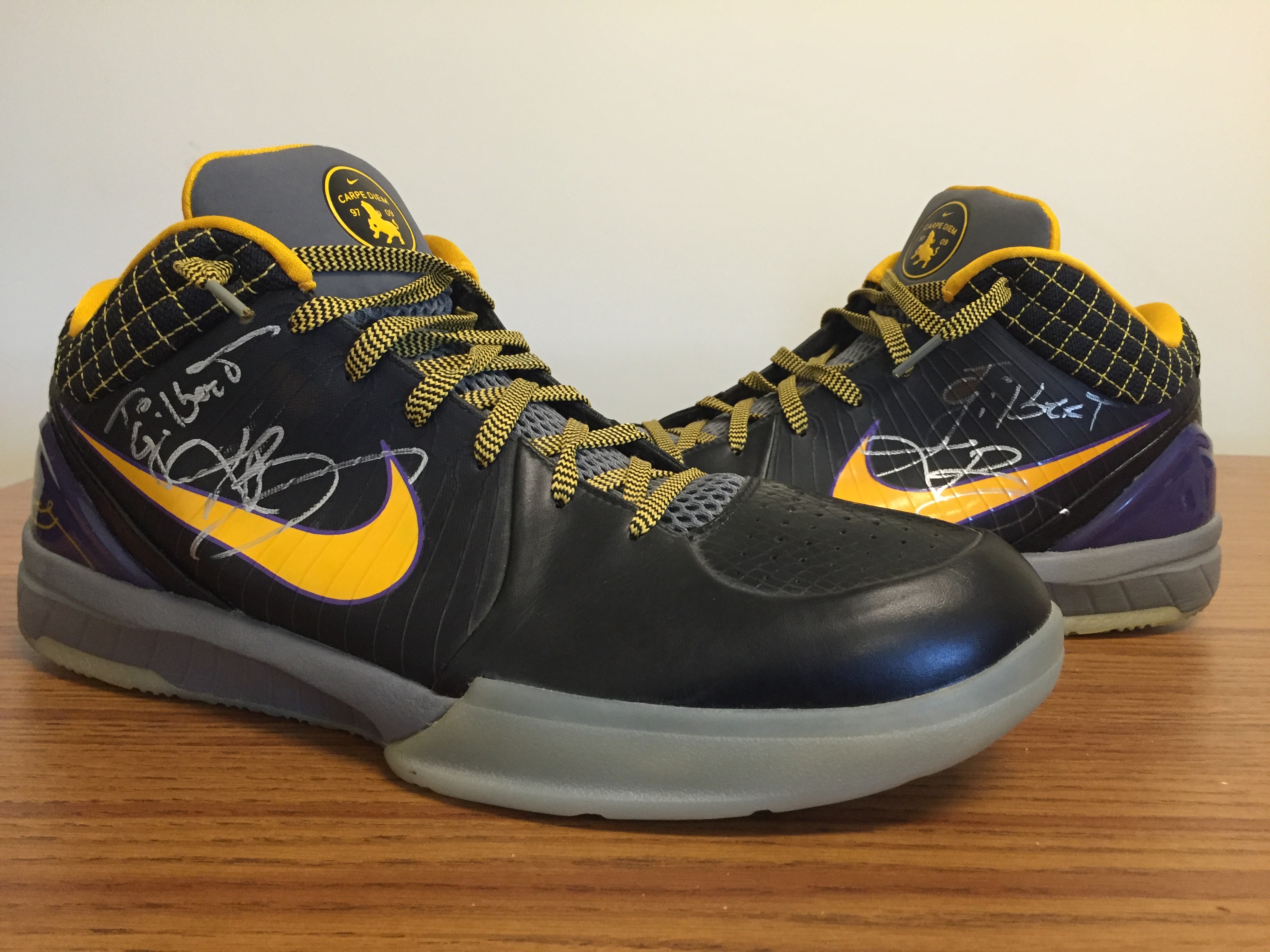 The same euphoria I felt every time I wore my number 8 uniform at seven was back. I must have told my parents the story 100 times before I got to the car that night.
And they didn't get tired of listening to it.
As a broadcaster, part of my dad's job was to remain as unbiased as possible, but as a fan of the game, he still had a few favorites. Among them were some of the all-time greats and, of course, the players who were nice to me, their little man. Yeah, those guys had a special place.
When someone checks both boxes, they reach another level.
It was as if we knew Kobe.
From that point on, my dad and I bonded as we watched Kobe. Months later, we would see him win the first of back-to-back titles and Finals MVP.
By then, he had probably forgotten to do the year of a 14-year-old boy in New Orleans. But that kid never did.
He never will.
It all came full circle, as his quest for a hat-trick began in the first round of 2011 as the No. 2 seed against the No. 7 New Orleans Hornets, a series in which my Hornets stole Game 1 along the way thanks to the heroism of Chris Paul.
In what would be my last games as a ball boy before graduating from high school, I saw Kobe focus on a laser focus that I had never seen before from any human being in any profession during Games 3, 4 and 6.
He was the first person to touch the court, more than three hours before the end of each game. As we rebounded each shot (off the net more than 95 percent of the time, easily) and returned the ball to him, he stayed in one spot for much longer than any other player.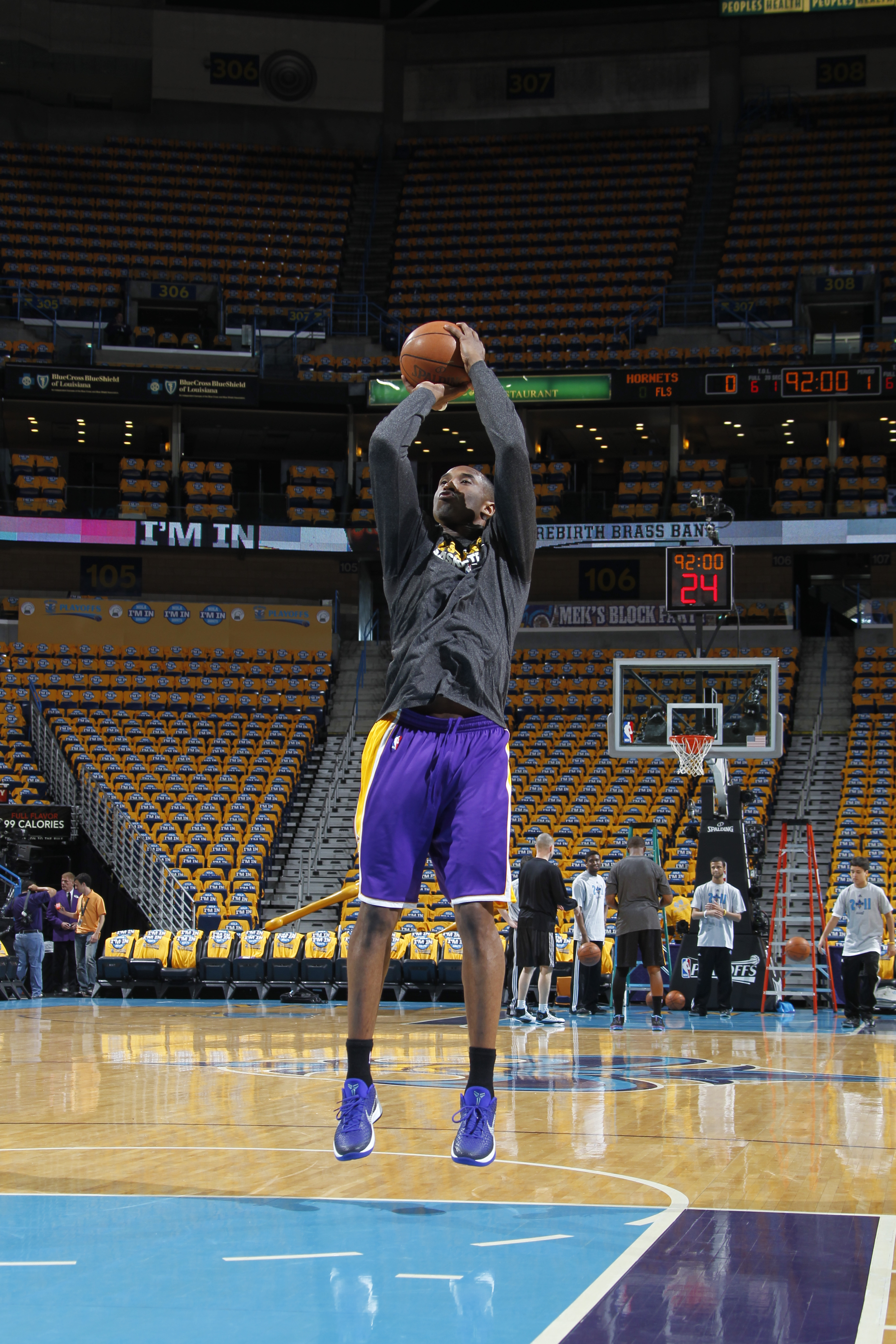 Like, we were used to seeing guys shoot until they knocked down 10, maybe 20. I'm talking 75-100 marks per spot. Very few flaws.
And this was just a small glimpse into his work ethic.
I didn't see or hear him speak to anyone who wasn't on the floor or in a group with him during any of the game days.
Nothing jovial. Swim back to the crowd. Any.
Not until Game 6 was in the bag and the job was done.
The Lakers could have eliminated my squad, but I really couldn't be mad. Kobe had given me his kicks a few years before.
He was my boy.
And for the last time, I got to see him do what he did best up close.
That memory stayed with me for the rest of Kobe's career along with the message on the tongue of the shoes that reads "Carpe Diem."
I made sure to place that message inside my own Kobes, the ones I wore at age 21 when I watched his final 60-point performance with the same fervor as the seven-year-old who wore his gold No. 8 Lakers jersey. during the 2001 NBA Finals.
In each of those moments, we all knew Kobe.
As the second act of his life began, we got a chance to appreciate Kobe, the father, the husband, the philanthropist, author, and filmmaker.
We are inspired by their words and feel connections to their stories.
The person we were getting to know had so much more to offer than the player we cheered on for 20 years.
---
In the hours after the news broke, I intermittently fought back tears as I recalled each of the previous stories.
When she thought she was okay, she would start the process of fighting back tears again and couldn't figure out why.
Later that night, I saw my dad for the first time since the news broke.
I hugged him.
We cry.
We didn't say words.
We didn't need to.
Our tears said more than any words.
It's because, like all fans around the world, we knew Kobe.