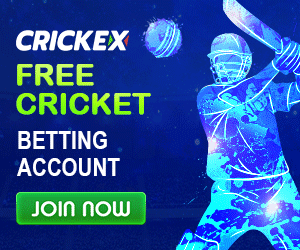 Bundesliga is Germany's primary football competition and also a top-level competition in Germany. The Inaugural Season of Bundesliga is scheduled in the year 1963-63. 1. FC Koln are the winners of the Inaugaural Season of Bundesliga. So the competition successfully completed its 58th Season. Now 59th Edition of Bundesliga is all set to kick and it's just a few months away to start. Whereas most of the games of Bundesliga are scheduled to play on Saturdays and Sundays. So Check Bundesliga Winners List.
The schedule of 2023-22 Bundesliga will kick off from 12th August 2023. While the competition will conclude on 14th May 2023. In the upcoming season of Bundesliga total of 18 teams will feature. VfL Bochum abd Greuther Furth are the two teams promoted from Bundesliga 2. And the two teams which are relegated from the current season are Werder Bremen and Schalke 04.
Bayern Munich the Defending champions of the Bundesliga Competition. In Bundesliga 2020-21 Bayern Munich Played 34 matches and win 24 matches. With 78 points Bayern Munich becomes the champion of the previous season.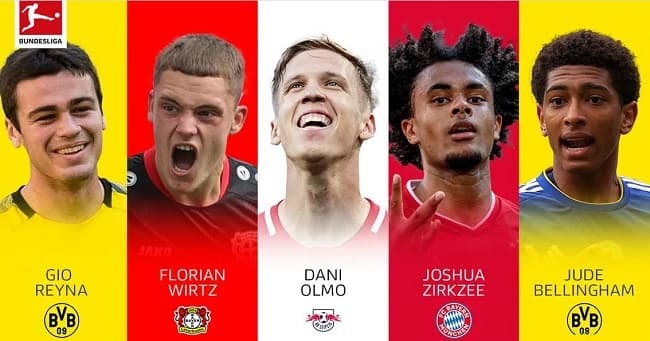 Complete Winner List
Here is the complete list of Bundesliga copm[eptionwinnersSocheckitoutbelowthewinnerofBundesligafrom1963-64seasonto2020-21SeasonThePreviousseasonofBundesligaConcludeson22ndMay2021ByaernMunichisthreechampionsofBundesliga2020-21AndalsoBayernMunichwonthe9thCONsecutivetitleofBundesligafrom2012-13to2020-21WhileRBLeipzigBorussiaDortmundandVfLWolfsburgfinishedat2nd3rdand4thplacerespectivelyinBundesliga2020-21[eptionwinnersSocheckitoutbelowthewinnerofBundesligafrom1963-64seasonto2020-21SeasonThePreviousseasonofBundesligaConcludeson22ndMay2021ByaernMunichistrhechampionsofBundesliga2020-21AndalsoBayernMunichwonthe9thCOnsecutivetitleofBundesligafrom2012-13to2020-21WhileRBLeipzigBorussiaDortmundandVfLWolfsburgfinishedat2nd3rdand4thplacerespectivelyinBundesliga2020-21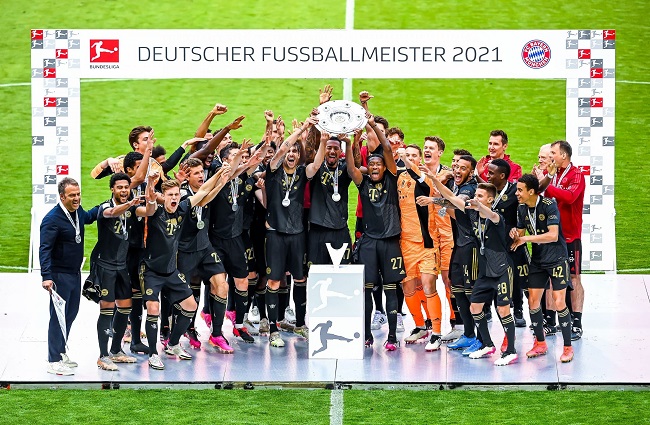 The Most Successful team of Bundesliga is Bayern Munich with 30 titles from 58 Seasons. Following that Borussia Dortmund stood at Second Position with 5 Bundesliga titles. Borussia Monchengladbach also wins the Five Bundesliga Title and stands at 3rd position. A total of 18 teams compete with each other to win the Bundesliga Title. The top four teams in the league table qualify for the Champions League stage. While 5th and 6th position team Qualify for Europa League group stage.
Bundesliga Winners (All Seasons):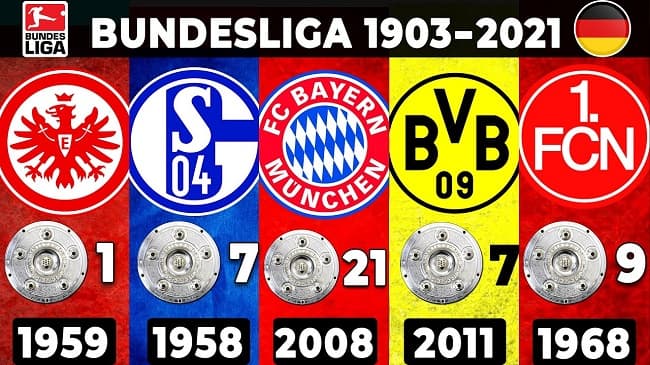 Check out the list of Bundesliga Winners All Seasons
| | |
| --- | --- |
| Season | Champion |
| 1963-64 | 1. FC Koln |
| 1964-65 | Werder Bremen |
| 1965-66 | 1860 Munich |
| 1966-67 | Eintracht Braunschweig |
| 1967-68 | 1. FC Nutmeg |
| 1968-69 | Bayern Munich |
| 1969-70 | Borussia Mönchengladbach |
| 1970-71 | Borussia Mönchengladbach |
| 1971-72 | Bayern Munich |
| 1972-73 | Bayern Munich |
| 1973-74 | Bayern Munich |
| 1974-75 | Borussia Mönchengladbach |
| 1975-76 | Borussia Mönchengladbach |
| 1976-77 | Borussia Mönchengladbach |
| 1977-78 | 1. FC Koln |
| 1978-79 | Hamburger SV |
| 1979-80 | Bayern Munich |
| 1980-81 | Bayern Munich |
| 1981-82 | Hamburger SV |
| 1982-83 | Hamburger SV |
| 1983-84 | BIB Stuttgart |
| 1984-85 | Bayern Munich |
| 1985-86 | Bayern Munich |
| 1986-87 | Bayern Munich |
| 1987-88 | Werder Bremen |
| 1988-89 | Bayern Munich |
| 1989-90 | Bayern Munich |
| 1990-91 | 1. FC Kaiserslautern |
| 1991-92 | VIB Stuttgart |
| 1992-93 | Werder Bremen |
| 1993-94 | Bayern Munich |
| 1994-95 | Borussia Dortmund |
| 1995-96 | Borussia Dortmund |
| 1996-97 | Bayern Munich |
| 1997-98 | 1. FC Kaiserslautern |
| 1998-99 | Bayern Munich |
| 1999-2000 | Bayern Munich |
| 2000-01 | Bayern Munich |
| 2001-02 | Borussia Dortmund |
| 2002-03 | Bayern Munich |
| 2003-04 | Werder Bremen |
| 2004-05 | Bayern Munich |
| 2005-06 | Bayern Munich |
| 2006-07 | VIB Stuttgart |
| 2007-08 | Bayern Munich |
| 2008-09 | VfL Wolfsburg |
| 2009-10 | Bayern Munich |
| 2010-11 | Borussia Dortmund |
| 2011-12 | Borussia Dortmund |
| 2012-13 | Bayern Munich |
| 2013-14 | Bayern Munich |
| 2014-15 | Bayern Munich |
| 2015-16 | Bayern Munich |
| 2016-17 | Bayern Munich |
| 2017-18 | Bayern Munich |
| 2018-19 | Bayern Munich |
| 2019-20 | Bayern Munich |
| 2020-21 | Bayern Munich |