Pro Kabaddi is a professional level Kabaddi league, it was launched in 2014, and yet 8 seasons are done with great success. The 2020 schedule has been canceled due to the COVID-19 pandemic situation, but yet the 2023 schedule dates are out for you to check. So take a look at the 2023 roster of players for the Jaipur Pink Panthers.
In 2018 and 2019, the pro-kabaddi league added four more new teams and changed its format to divide the team into two divisions to be known as "Zones." Coming to Jaipur Pink Panthers they are one of the best teams with good players. They recently gained their huge popularity by making some partnerships with celebrity owners. The team is run by GS Entertainment Worldwide which is led by Mr. Bunty Walia. Get full details on Pro Kabaddi 2023: Jaipur Pink Panthers player list, captain, owner, manager, squad, team jersey and other details.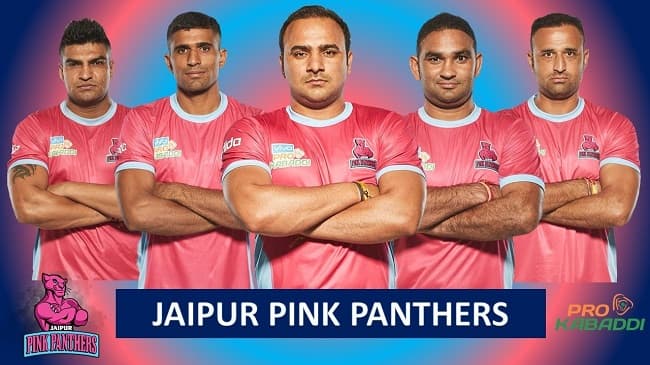 2023 Pink Panthers Jaipur Player Roster: Pro Kabaddi
Jaipur Pink Panther is one of the best teams one could have and they have the strongest player in which Deepak Niwas Hooda is an all-rounder as he is the captain of the team so look at the list of players and their position that is given. below.
Nilesh Salunke - Raider
Guman Singh - Raider
Sushil Gulia - Raider
Milinda Chathuranga - Raider
Deepak Narwal - Raider
Ajinkya Ashok Pawar - Raider
Lokesh Kaushik - Raider
Karamvir - Defender
Sandeep Kumar Dhull - Defender
Amit Hooda - Defender
Sunil Siddhgavali - Defender
Pavan T. R - Defense
Nitin Rawal - All Terrain
Santhapanaselvam - All terrain
Deepak Niwas Hooda - All Terrain
Dong Gyu Kim - All Terrain
Trainer and owner of Pink Panther
Pink Panther, which is one of the most famous clubs, the team is owned by Abhishek Bachchan and is led by Deepak Niwas Hooda and trained by Srinivas Reddy. The team was founded in the year 2014 and it is one of the most successful teams with a track record of 858 points, which is amazing, the team is also giving its best performance and is ready for its next matches.