The NBA is the undisputed number one basketball league in the world. Whenever there is a game live, thousands of fans flock to the arena to cheer on their favorite team. Superstars like LeBron James, Steph Curry, James Harden, Kevin Durant have taken the sport to new heights. They have had some of the highest number of scores in NBA history. Check out the top 10 NBA scorers of all time.
LeBron James surpassed Los Angeles Lakers legend Kobe Bryant on the NBA's all-time scoring chart, moving up to No. 3 who already fills a historic legacy. However, between the two, which player is the better scorer?
That question is not as simple as looking at the point totals. Instead, it calls for a nuanced approach that involves total production but also takes into account the efficiency, longevity, and style of the individual. Some subjectivity is unavoidable as the numbers are important, but they don't tell the whole story in this particular case.
We would look back through NBA history and see the top 10 scorers, as well as highlighting several other deserving players.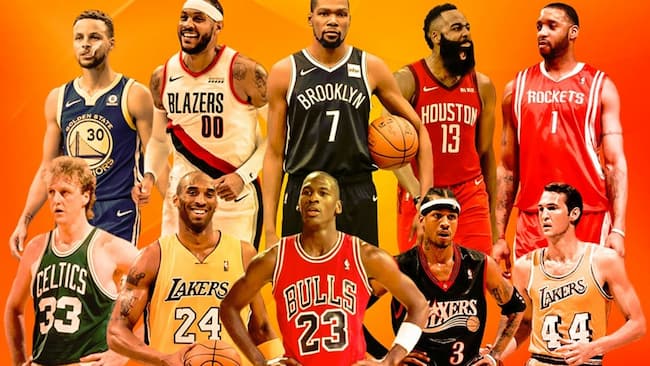 The top 10 NBA scorers of all time
James has been in third place since beating Kobe Bryant in January 2020, but he's very close to Karl Malone. With 35,367 points, King James needs 1,562 points to overtake the Mailman in second place.
James has failed to score at least 1,562 points in a season just twice in his 18-year career, though both times it has been in the past three years.
When James inevitably surpasses Malone, be it this season or next, he will shift his gaze to Kareem Abdul-Jabbar's all-time NBA record of 38,387 points.
Meanwhile, Anthony knocked Elvin Hayes out of the top 10 in 2020-21, finishing the season with 924 points from 69 games and 27,370 career points.
ALSO CHECK: Top 10 Players in NBA 2K22
It should only take Anthony a handful of games to register the 40 points needed to move into sole possession of ninth place, where Moses Malone sits with 27,409 points.
Melo would have to score 1,227 points to pass Shaquille O'Neal for eighth place, which would be his best scoring result since 2017-18 as a member of the Oklahoma City Thunder.
He certainly could claim the No. 8 spot at some point, but that may be the highest 37-year-old Anthony can finally climb; Wilt Chamberlain is another 2,833 points ahead of Shaq in seventh place.
Here's a look at the top 35 scorers of all time (including inactive players):
Kareem Abdul-Jabbar: 38,387
Karl Malone: ​​36,928
LeBron James: 35,367
Kobe Bryant: 33,643
Michael Jordan: 32,292
Dirk Nowitzki: 31,560
Wilt Chamberlain: 31,419
Shaquille O'Neal: 28,596
Moses Malone: ​​27,409
Carmelo Anthony: 27,370