Manchester United star Anthony Martial has apologised to fiancee Melanie Da Cruz following the allegations that he cheated on her with model Malika Semichi at a Paris hotel.
Taking to Instagram, the 23-year-old star posted a picture and quoted a long message, which read, "I would like to apologize to my relatives, my beautiful family and especially my fiancée for the harm I have done in recent months."
"I made mistakes and I'm sorry it will not happen again."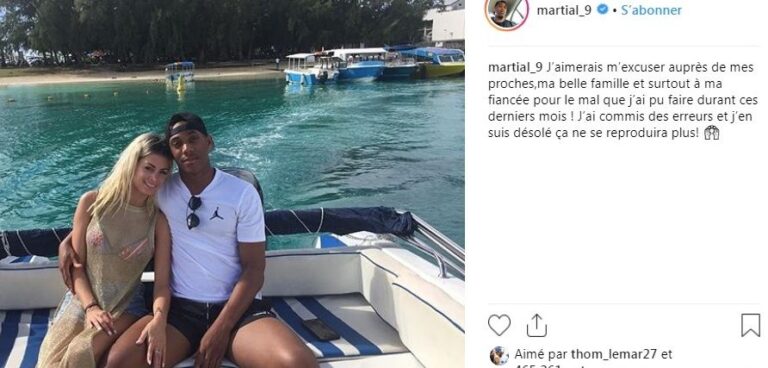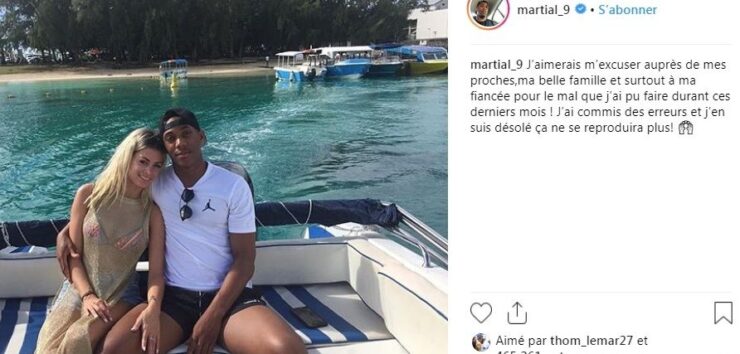 Martial and Malika met last year in June at the upmarket Hobo nightclub, shortly after the former was snubbed by Didier Deschamps for his France squad for the 2018 FIFA World Cup.
Both Martial and Malika danced together before exchanging their contact numbers. As quoted by several sources, Malika explained their relationship started pretty swiftly but soon took a nasty turn when the footballer started asking for explicit images. Soon after, Martial booked a room at the Hotel du Midi near the Gare de Lyon train station in Paris for a mere £70 for a night.
"I have to say I was surprised when he told me which hotel he had picked," said Malika.

"It wasn't the nicest and was a bit rundown and cheap, especially seeing as he's used to much nicer hotels."
By the time it all happened, Martial's girlfriend Melanie Da Cruz was eight months pregnant with their son, Swan.  Malika soon moved to Miami, but the pair stayed in touch through text. But as soon as she realised the truth… truth that Martial is after just one thing, she decided to draw curtains.
 "I really cared for him. It felt special. But in the end, it was clear he was just using me."
As the news took over the globe, Martial decided to react and in December 2018, he posted an image on Instagram with Da Cruz, quoting, "There will always be bad people, jealous in this world who will be ready to tell lots of bulls**t to be able to exist but thanks to God I know on which way I go with the best by my side."
Despite all these off the field antics, Martial – who signed an extension with Manchester United back in January – has managed to rediscover his form under the new caretaker manager, Ole Gunnar Solskjaer. In 28 appearance across all competition, the France international has bagged 11 goals.