India played out a 3-3 draw against Malaysia in the Super-4 round of the Asia Cup hockey on Sunday. The Indian team was trailing 0-2 till halftime. After this, the team first leveled 2-2 and then took a 3-2 lead. However, Malaysia also scored the equalizer, and eventually, the match ended in a 3-3 draw. After this match, India is in second place with 4 points and the hope of reaching the final remains intact. India's last match in Super-4 will be against South Korea on Tuesday.
The first half of the match went to the 10th ranked team Malaysia. While the Indian players dominated in the second half. Razi Rahim's hat-trick was seen from Malaysia. Vishnukant Singh, SV Sunil and Neelam Sanjeev scored for India.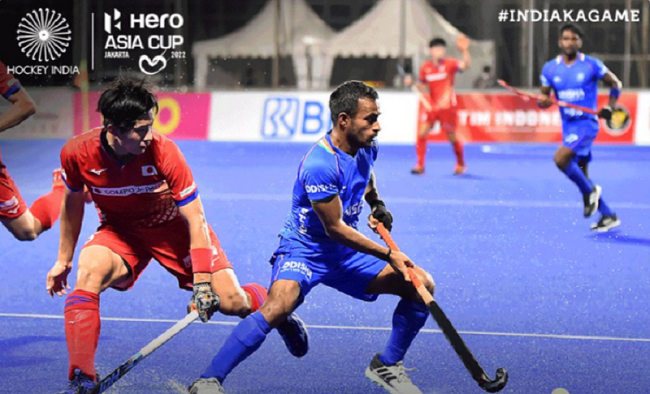 Malaysians dominate the first quarter
Asia Cup 2023 Hockey Prize Money Distribution Hockey
Upcoming Matches and Squads of Asia Cup 2023 Hockey
The Malaysian players dominated the opening quarter of the match. The Indian forward could enter the opposing circle only four times. Malaysia entered the circle 7 times, penetrating the Indian defense line and getting a penalty in the 11th minute.
Taking advantage of this, Razi Rahim scored the goal. However, the blue jersey players created pressure from time to time. But Malaysia maintained an aggressive stance. They also got the advantage and got in the form of a penalty in the 20th minute.
4 goals in the last 30 minutes, 3 scored by India
India made a good comeback in the second half of the match. India was trailing 2-0 at the start of the third quarter. But, in the next 25 minutes, the team took a 3-2 lead. In such a situation, Raza Rahim proved to be a troubleshooter for Malaysia and converted a penalty in the 55th minute.
Earlier, for India, Vishnukant Singh in the 31st minute, SV Sunil (field goal) in the 52nd minute, and Sandeep scored a penalty in the 54th minute.