Defending champions India could not make it to the final of the Asia Cup hockey. They played out a 4-4 draw with South Korea. With this draw, India's dream of reaching the final of the tournament for the ninth time has been shattered. This match reminded me of 2013. When the Indian team was defeated by South Korea 4-3 in the final of the same tournament.
With this draw, the Korean team entered the final. Where he will face Malaysia on Wednesday. They had already sealed their place in the final after beating Japan 5-0. Now India will play the match against Japan for third place on Wednesday.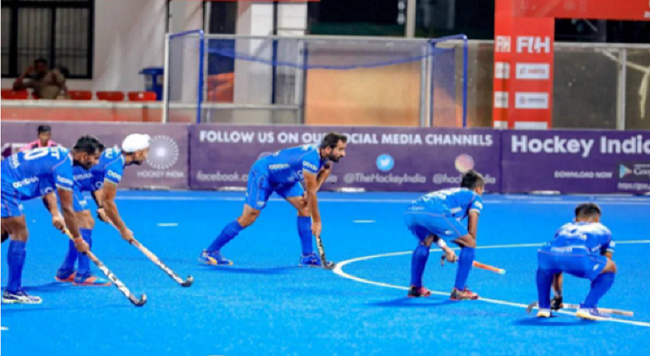 India had played the final 5 years ago
India last played the final in 2017, when they defeated Malaysia 2-1 to win the title. Prior to that, India had made it to the finals of the tournament in the 2013, 2007, 2003, 1994, 1989, 1985, and 1982 seasons. Out of these, Team India won the titles in 2017, 2007, and 2003.
Asia Cup Hockey 2023 Update: India's Strong Comeback…
Asia Cup 2023 Hockey Prize Money Distribution Hockey
6th match draw between India-South Korea
This is the 6th draw match between India and South Korea. Earlier both the teams have played 5 draw matches. In this tournament in 2017, both played a 1-1 draw. Overall, both the teams have faced each other 27 times. Out of these, India has won 12 matches. While the team has lost in those 10 matches.
Tight competition in the first three quarters, and no goal came in the last
In this match, there was fierce competition between both the teams. Both got off to a brisk start from the first quarter. India got the advantage in the 8th minute. When Sandeep scored the first goal on the penalty. However, India's happiness did not last long and Korea's Jong Jonghyung scored a penalty in the 12th minute to level the score. The game went on for some time on this score.
After that, in the 17th minute, Ji Woo Chen of South Korea scored a field goal and gave his team a 2-1 lead. Three minutes later, Maninder Singh converted a penalty and the score was level at 2-2. In the very next minute, Mahesh Shesh Gonda scored a goal to give India a 3-1 lead. But, Kim Jong-Ho scored a field goal in the 27th minute to level the score at 3-3.
This was the score at halftime. In the second half of the match, S Mariswaram scored another goal for India. With this goal, India went 4-3 in the match. But Jong Monj scored against India in the 43rd minute to level his team. No goal came in the last quarter.