Team India, full of youth, defeated Japan 2-1 in the Super-4 match of the Asia Cup hockey on Saturday evening. With this, the account of the defeat received during the league match was settled. In the league match, Japan defeated India by 2-5 goals.
Manjit Singh scored the first goal for India. In the 34th minute of the game, Pawan Rajbhar scored the second goal.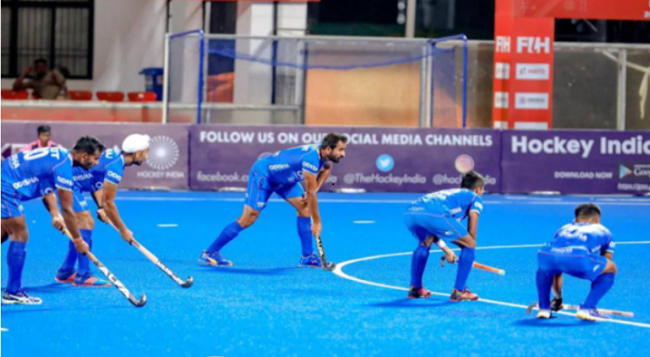 Japan did not move in front of the defense of the blue jersey
India had taken a 1-0 lead over Japan at the end of the first quarter. In the 18th minute of the second half, Japan got a penalty corner which the team converted into a goal.
Japan's Neva scored a goal to level the score at 1-1. After this, no goal was scored from India in the second half and till the halftime, the score of both was equal to each other.
A strong start in the third quarter
In the third quarter, the Indian team made a strong start and in the 34th minute of the game, Pawan Rajbhar scored the second goal for India to give the team a 2-1 lead. During this, Japan's team tried a lot, but in front of India's strong defense, one of these teams did not work. India maintained a 2-1 lead over Japan until the end of the third quarter.
After this, the good performance of the Indian team continued in the fourth quarter also under the captaincy of Birender Lakra. The mistakes that India made in the league match against Japan were less visible this time. In the fourth quarter too, India did not allow Japan to score a single goal and won by maintaining a 2-1 lead until the end of the game.
Super-4 teams will play three matches each
Japan, South Korea, and Malaysia have made it to the Super-4 along with India. The four teams that reached the Super-4 round of the competition will now play three matches each. After this, the final match will be played between the top 2 teams.
Had a big 16-0 win over Indonesia
Earlier, in the last match of the league, India made a strong comeback in the tournament, registering a big 16-0 win over hosts Indonesia. At one point, after the first two matches, it was a matter of being out of the league stage itself, but India made it to the Super-4 with a big win, beating Pakistan.
The team is playing under the guidance of former Indian captain Sardar Singh.
10 players landed in blue jerseys for the first time
10 players have made their international debut in the competition. Earlier these players have not played any match for the senior team. Team India, which has already qualified for the World Cup-2023 as a host, gave a chance to the youth in the Asia Cup so that they could get experience.