Game day is coming up, and where you sit can make all the difference. Think about it: Do you want to be in the middle of the action, high-fiving other fans? Or does kicking back in a cushy seat away from the crowds sound more like your style?
Standard seating puts you in the heartbeat of the stadium, where every cheer and groan is shared with thousands of others. It's where the real fans roar. But if the thought of watching the game with top-notch amenities appeals to you, then a corporate box could be the perfect fit.
Your perfect game day is out there. Let's walk through your choices to find the best spot for you to catch all the action.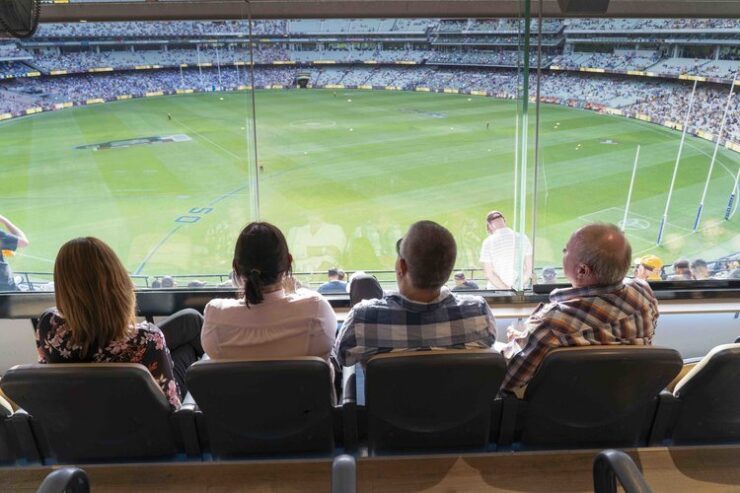 Corporate Boxes: The Premium Game Day Experience
Corporate boxes are like the VIP experience for sports fans. Picture your own private spot high above the crowd, with none of those long lines for snacks or the bathroom. You get comfy seats, your own space, and a panoramic view of every play.
Take a look at what makes corporate boxes a top pick:
Prime Viewing: They give you a clear, unblocked view of the field, combining the thrill of the game with the comfort of high-end seats and some extra elbow room.
Exclusive Dining: Instead of standing in line, you get food and drinks brought right to your seat, often with various choices that you might not find elsewhere in the stadium.
Social And Business Perks: These luxury boxes, often included in corporate hospitality packages, provide a quiet space for business chats or leisurely talks, away from the crowd's roar.
However, there are a few hurdles to consider:
Higher Costs: The price tag for this kind of luxury is steep compared to general seating.
Muted Atmosphere: The vibe in a corporate box can be more subdued; if you live for the raw energy of the crowd, you might find it too quiet.
Limited Availability: You'll also need to plan ahead since these spots are in high demand and can be hard to secure at the last minute.
Corporate boxes mix luxury with a personal touch for an unforgettable game day. If that's your style, a corporate box could be the winning move for your next big game.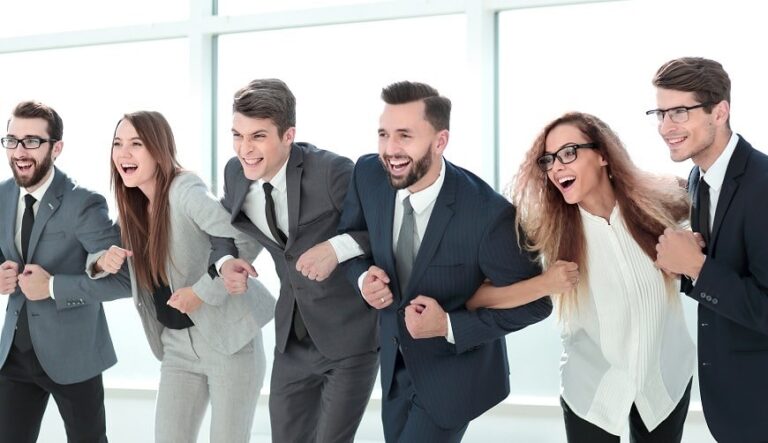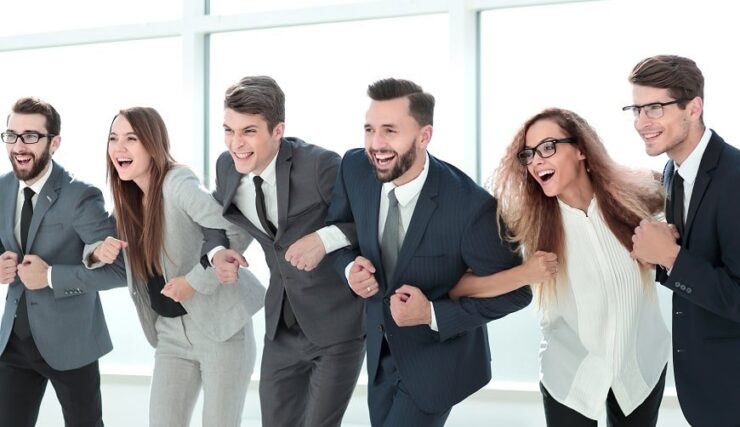 Standard Seating: The Traditional Game Day Experience
Get close to the action with standard seating, where the energy of the crowd fuels the excitement. It's where every fan becomes part of the game, living each moment right from the stands.
Here are the reasons why many prefer the traditional seats:
Unfiltered Atmosphere: There's nothing like cheering and chanting with thousands of fans, all swept up in the excitement that fills a packed stadium.
Affordable Access: These seats offer a more budget-friendly option, allowing you to soak up the game day excitement without breaking the bank.
Community Connection: Sitting in the midst of die-hard fans creates a sense of camaraderie and belonging, uniting strangers through their shared love for the team.
But remember, standard seating comes with its own set of challenges:
Fewer Amenities: You may miss out on the plush comforts and personalized service that come with premium options.
Crowded Spaces: Be ready to navigate through crowds and queues, whether you're heading to your seat or waiting for a hot dog.
Limited Views: Depending on your seat, you might have an obstructed view or be at a distance from the action, which can affect how you experience the game.
Standard seating offers an electrifying experience that captures the essence of sports culture. If you're all about the game and love being in the thick of the action, the traditional seat is where you'll find your adrenaline rush.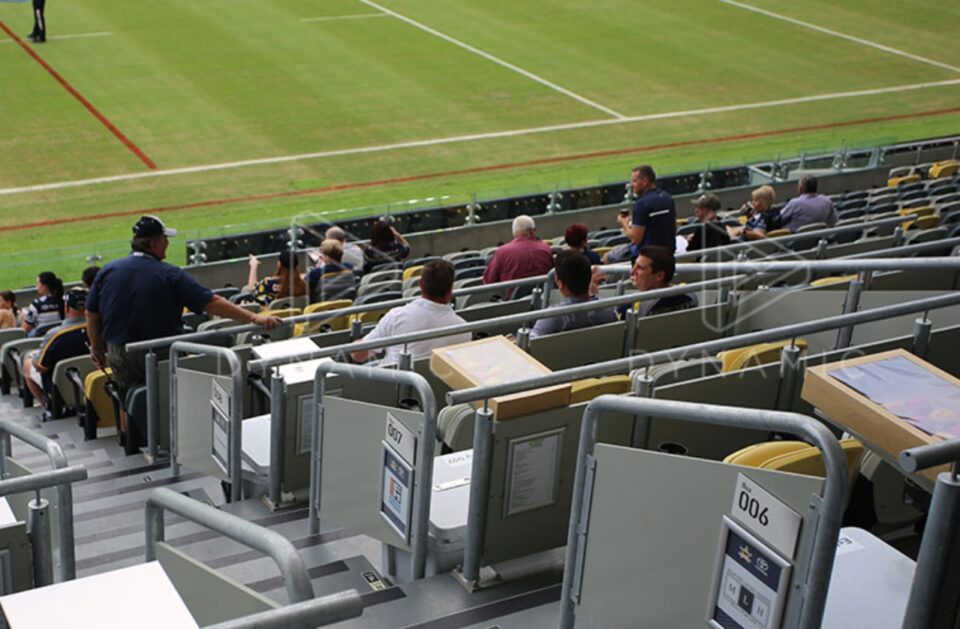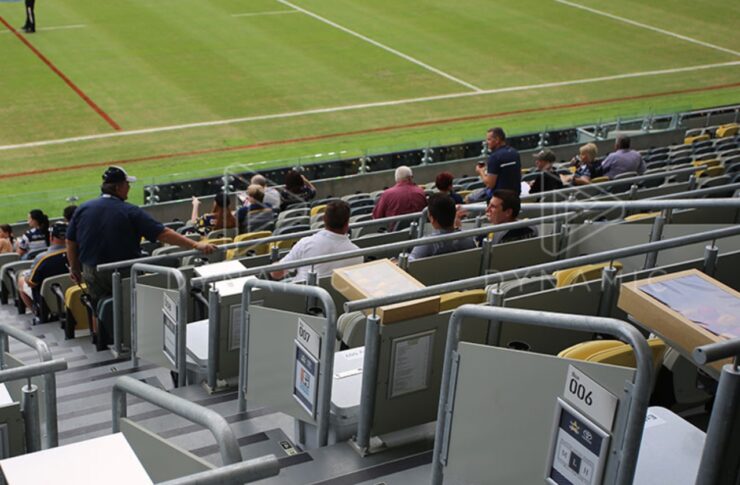 Decision Factors
Choosing between a corporate box and standard seating boils down to a few considerations:
Cost: Corporate boxes are a premium option and cost significantly more.
Experience: Standard seating brings you an authentic stadium atmosphere.
Purpose: For business, boxes work best. For pure fan experience, choose standard seating.
Privacy: Boxes offer privacy, while standard seating is all about community.
Accessibility: Corporate boxes often sell out quickly and require advance booking, while standard seats are more accessible, even last minute.
Align these factors with your game day expectations to make the best choice.
Final Thoughts
In the end, your game day is what you make of it. Whether you choose the exclusivity of a corporate box or the spirited atmosphere of standard seating, each offers a unique way to enjoy the event. It's all about what fits your style and the kind of memories you want to create. Make your decision, embrace the atmosphere, and let the game take care of the rest.