The Vijay Hazare trophy tournament will begin on December 8, where Goa Vs Assam will play their first match on the same day. Check out the elite Group E prediction of Goa Vs Assam round 1.
The Vijay Hazare Trophy is played in seven cities across the country, with the final scheduled for December 27. Mumbai is the former winner of this tournament.
The teams have been divided into five Elite groups consisting of six teams each group.
On the other hand, the Plate group consists of eight teams.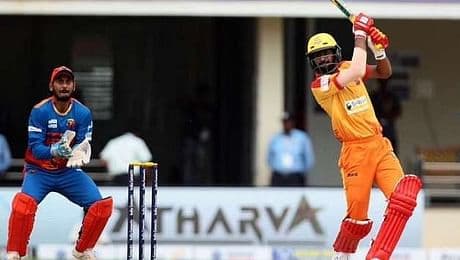 The Goa Vs Assam Team Squad
Go to
Felix Alemao, Amit Yadav, Amogh Desai, Samar Dubhashi, Ishaan Gadekar, Deepraj Gaonkar, Lakshay Garg, Vaibhav Govekar,
Aditya Kaushik, Snehal Kauthankar, Eknath Kerkar, Darshan Misal, Amulya Pandrekar, Suyash Prabhudessai, Vijesh Prabhudessai, Shubham Ranjane, Malliksab Sirur, Niihal Surlaker, Shrikant Wagh
Assam
Assam: Riyan Parag, Rajjakuddin Ahmed, Roshan Alam, Pallavkumar Das, Denish Das, Pritam Das, Rishav Das,
Amlanjyoti Das, Saahil Jain, Jitumoni Kalita, Mukhtar Hussain, Rahul Singh, Kunal Saikia, Akash Sengupta, Amit Sinha, Abhishek Thakuri
Here you can see the live coverage of the match.
You can also watch the live stream on the Disney + Hotstar app or on the website where the live stream is available.
All the matches of this tournament are available on the Star Sports channel.
It's easy to download this app, it's available on the Play Store.
Cricket fans this tournament in 8 languages ​​via Star Sports
Goa Vs Assam Elite Round 1 Group E Prediction
In the 2020-21 points table, Goa played 5 matches in total and won 1 and lost 4 after this, its NRR is -0.788 and its points are 4.
On the other hand, Assam's total game was 5 matches and they won all 5 matches after this, their NRR is +1.909 and their points are 20
According to these statistics, Assam is in a stronger position compared to Goa, moreover, it depends on its next performance.
We are unable to navigate H2H of this match, but we will update this on our SportsUnfold site very soon.
Dream 11 Match Prediction
As Team Captain, we have options like Gokul Sharma
As vice-captain, we can go for Riyan Parag
In wicketkeeper, we have Abhishek Thakurai.
All terrain, we have players like Amit Yadav, Shrikant Wagh, Shubham Ranjane
Bowlers we have the option of Abu Nechim, Deny that, Rahul Singh
In Batsman we have Nihal Surlaker, Rajjakuddin Ahmed |, Nihal surlaker