Since the game of racquetball requires a lot of side-to-side movement, you need specialized gear. The best racquetball shoes will provide you with enough mobility and ease of movement to get the best possible results in the game. 
Best Overall
Good Choice
Don't Miss
Also Consider
New Balance Men's 608 V5 Casual Comfort Cross Trainer, Black/Black, 6.5
adidas Men's Advantage Racquetball Shoe, Black/Black/Grey, 3.5
Wilson RUSH PRO 2.5 2019 Pickleball Shoes
ASICS Men's Gel-Rocket 9 Volleyball Shoes, 6, White/Pure Gold
Best Overall
New Balance Men's 608 V5 Casual Comfort Cross Trainer, Black/Black, 6.5
Good Choice
adidas Men's Advantage Racquetball Shoe, Black/Black/Grey, 3.5
Don't Miss
Wilson RUSH PRO 2.5 2019 Pickleball Shoes
Also Consider
ASICS Men's Gel-Rocket 9 Volleyball Shoes, 6, White/Pure Gold
Of course, mobility is not the only important factor to consider since, as the match progresses, you need to feel comfortable as well. These shoes are specifically designed to grip you to the floor and provide adequate support as you move on the court. Although sports shoes for similar hard-court sports can benefit racquetball players, they are not an ideal choice.
List of Best Racquetball Shoes
Shopping for racquetball shoes might prove challenging in today's market, so to help you narrow down your research for the best ones, we have made a list of the best products for your money's worth in the section below.
Hit the Court with the Best Racquetball Shoes
1. New Balance 623 V3 – Best Overall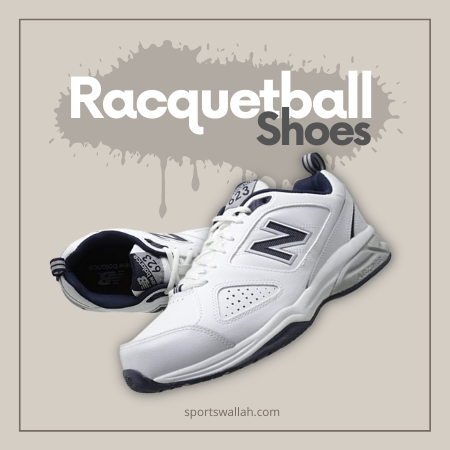 Apart from being an excellent choice for racquetball, New Balance 623 V3 is a comfortable and supportive solution for gym workouts and everyday walking. The shoe is available in 8 different colors and various sizes.
New Balance 623 V3 features a non-marking rubber outsole that does not leave scuff marks on the floor. It extends to the front part of the upper, protecting you from impact and injuries during your racquetball matches or workout. The tread patterns on the outsole add excellent traction, which improves your ability to move side-to-side.
The midsole is shock-absorbent, lightweight, and highly durable. The full-length EVA grants you an excellent and stable platform that makes your feet move more naturally. Between the insole and midsole lies an internal shank that is designed to prevent any discomfort in your feet and reduce the risks of injuries. 
Pros
Supportive midsole
Relieves foot issues and reduces chances of injuries
Reasonable price for the value
Excellent fit
Cons
Upper and sole are not very durable
2. Adidas Advantage Sneaker – Best Adidas Racquetball Shoes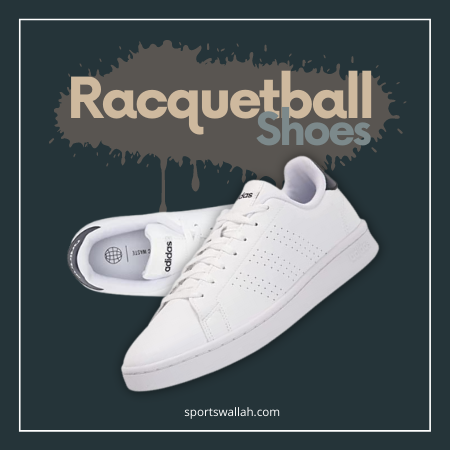 Adidas Advantage is a sneaker available in 13 different colors and various sizes. It has a minimal, clean-looking design and sticks to classic white and black variations, while the bottom of the shoe differs in color.
The upper includes high-quality leather that is very durable, well-built, and the Cloudfoam insole provides you with cushioned comfort and feel. The shoe is a low-top lace-up sneaker that resembles Stan Smith, especially with a white-green colorway, but it is, of course, cheaper. 
As far as the styling goes, the shoe is quite versatile, and apart from being an excellent choice for racquetball, it is good for other everyday activities and fits well with various clothing combinations. However, the forefoot might feel a bit narrow, so before purchasing, make sure to read the size chart thoroughly.
Pros
Clean and simple design
Excellent leather upper
Very comfortable
Cons
The tongue might be too long for some users, which can cause discomfort
3. HEAD Men's Sonic 2000 MID Racquetball – Best-Selling Racquetball Shoes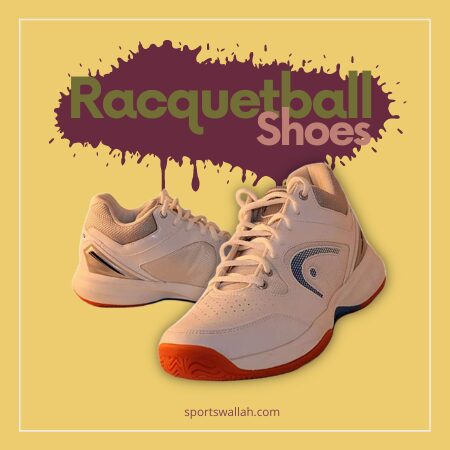 The Sonic 2000  is specifically designed for racquetball and squash, and it comes from the world-renowned brand HEAD. It is an excellent upgrade to the Sonic 900 for everyone who loves this best-selling model shoe.
It is a very comfortable shoe that combines breathable mesh elements with firm and durable synthetic materials that grant you suitable fit and excellent comfort. The internal pre-molded heel counter ensures that you get the best possible stability alongside breathable materials on the tongue that provide you with excellent air circulation.
The non-marking gum rubber compound ensures excellent traction necessary for effective racquetball games and great durability on every court type. The EVA midsole grants you shock absorption when landing hard on firm surfaces.
Pros
Non-marking gum gubber
Excellent shock absorption
Top-notch stability
Cons
Some reviewers claim that the insole is not very durable
4. Wilson RUSH PRO 2.5 – Best Wider Feet Racquetball Shoes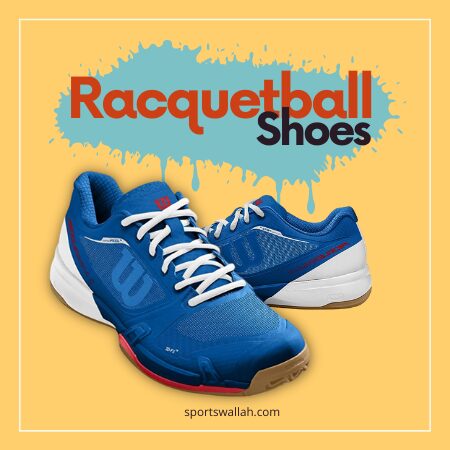 Wilson Rush Pro 2.5 is available in two color layers and a variety of different sizes. It is light, comfy, and offers excellent feet support for long and exhausting racquetball games while being very durable and breathable.
It is a shoe suitable not only for racquetball but for other activities such as jogging, walks, or other sports such as volleyball or tennis. With its soft uppers, Wilson Rush Pro 2.5 it provides an excellent fit even if you have wider feet.
The uni-tongue and the rest of the interior of the shoe are an excellent fit and provide you with an excellent feel while on the court. Although there is enough breathing room for the foot inside this shoe, the main negative about it is that your feet might become wet, especially when you wear them in a warm environment.
Pros
Features shank inside the sole for more natural movement
Excellent traction along the pavement
Suitable for various sports
Cons
The padding inside the shoe is hot and can make your feet wet
5. Python Deluxe Indoor Court Shoes – Best Traction Racquetball Shoes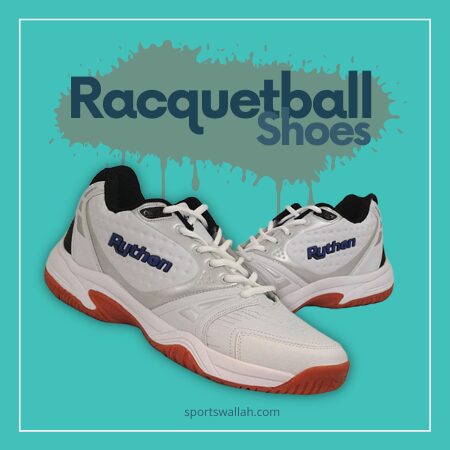 Python Deluxe shoes separate themselves from the rest of the racquetball shoes by the way they address breathability.  Most of the shoes usually provide breathability with their upper mesh, while Python Deluxe has a leather exterior and interior mesh that provide excellent air circulation.
Although this feature will not prevent unpleasant smells as effectively as the upper mesh, it will certainly increase durability. It comes equipped with a non-marking rubber sole that provides you with excellent traction and grip for indoor conditions.
The back heel of Python Deluxe is very thick and durable, enhancing shock absorption and stability during landing, while the interior mesh will keep your feet dry and increase your mobility and ease of movement. The shoe is lightweight, comfortable, and comes at a reasonable price.
Pros
High breathability
It comes at a reasonable price
Lightweight and durable
Cons
Some reviewers claim Python Deluxe are too small
6. ASICS Men's Gel-Rocket 9 – Best Lightweight Racquetball Shoes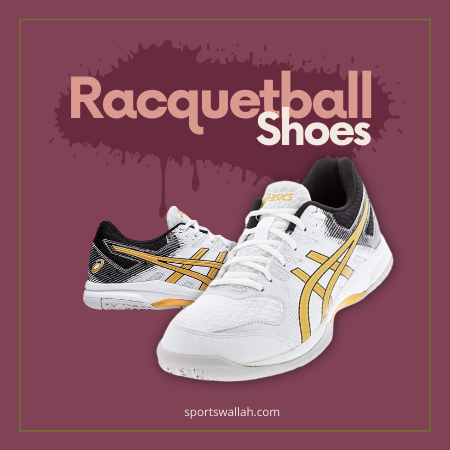 ASICS GEL-rocket 9 has a lace closure system that grants you optimal fit and excellent racquetball gameplay. These racquetball shoes have a lightweight mesh top portion that is armored with synthetic overlays that provide excellent comfort and feet support.
The breathable mesh lining adds more cushioning to the footbed for a more relaxed feel. The midsole has molded EVA material that adds more shock absorption, which reduces pressure when landing. 
The gum rubber outsole provides you with a more natural composition, and it is able to withstand any wear and tear and grants you extra durability. ASICS GEL-rocket's GEL cushioning offers great shock-absorption support at the toe-off that is necessary for comfortable matches.
Pros
Firm padded tongue and collar for extra support
Lightweight
Supportive
Excellent cushioning
Cons
Some reviewers claim that this shoe does not have adequate padding
7. HI-TEC Ad Pro Indoor Sports Shoes – Most Comfortable Racquetball Shoes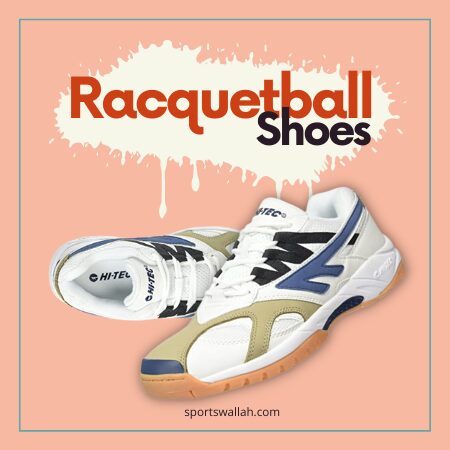 HI-TEC Ad Pro shoes have a wide range of excellent features, among which the most praised one is durability. This pair can take quite a lot of beating during racquetball matches and provides you with excellent comfort, feel, and fit.
The insoles are very comfortable and have a molded heel cup design to correct your body posture, which provides you with suitable arch support. Outsoles have excellent gum rubber construction and leave no marks on the court, which is very important since most indoor courts have rigorous streak-free regulations.
This shoe provides you with excellent stability and keeps your foot in place no matter how hard you move from side to side. The design is lightweight, and it contributes to an already high comfort level.
Pros
Excellent traction that enables quick changes of direction
Comfortable inner cushioning
Very durable
8. Head Men's Sprint Pro Indoor Shoe – Best HEAD Racquetball Shoes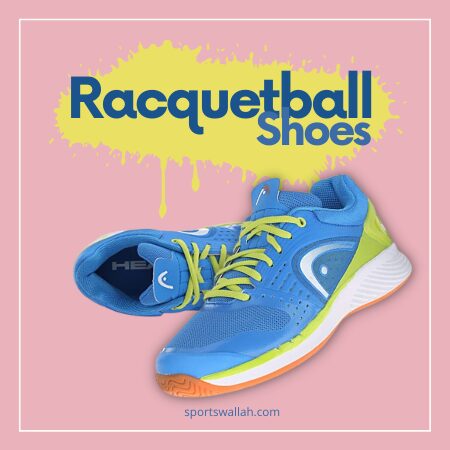 Head Men's Sprint Pro Indoor shoe provides you with comfort above everything else, and its thermoplastic polyurethane grants you just that. These shoes improve body posture and grant you the court traction necessary for a quality racquetball game.
The heel part of these shoes has a unique perforated layer which grants excellent fit and stability, which is highly important for performance. The mesh vamp and tongue ensure that the shoe is breathable and that it ventilates air properly.
It is an excellent pair of shoes, but its construction is a bit heavy, so in case you can ignore this flaw, Head Men's Sprint Pro will fit you excellently and provide high levels of comfort and support.
Pros
Excellent stability and fit
Suitable gripping power
Good air ventilation and breathability
Buying Guide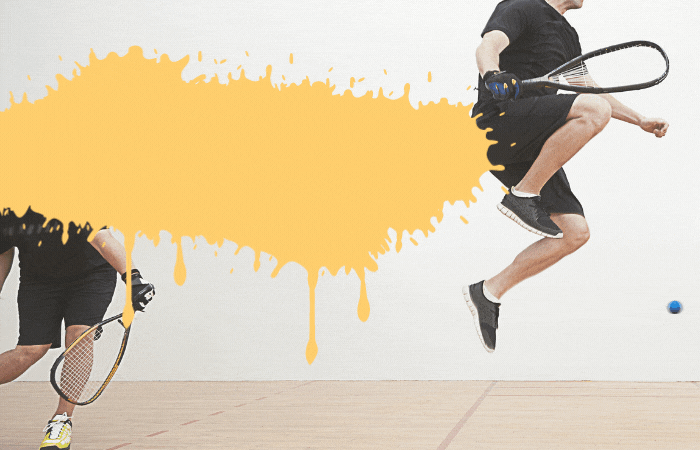 Racquetball shoes often have durability issues because of the nature of the sport and the need for constant side-to-side movement. 
However, if you know where to look and tiny details you need to pay attention to, you will have a successful purchase of the product that will last you for an extended period. 
To help you in this endeavor, we have put together a list of guidelines to follow so that you can get the most value for your money's worth.
Quality Grip
When purchasing a pair of racquetball shoes, it is crucial to get the ones that provide you with quality traction on smooth surfaces. It is important to pay attention to this to avoid any unnecessary slips and injuries. 
Most racquetball shoes are equipped with gum rubber outsoles that grip you effectively on the court. Traction is not the only advantage of these outsoles since they also do not leave marks or streaking on the court.
Feet Protection
When it comes to racquetball shoes, feet protection comes from quality cushioning and/or padding, and it is installed in the forefoot, heel, or mid-foot region. This type of feet protection allows you to perform quick movement quickly and reduces the risks of injuries, and unlike tennis shoes, they offer excellent ankle support. 
Flexibility
Racquetball requires a lot of side-to-side movement and quick change of directions to play it effectively, and all these actions cannot be performed if you have a rigid and bulky pair of shoes. A flexible pair will provide you with excellent mobility and provide the necessary ease of movement no matter your position on the court.
Durability
Durability is one of the key aspects you consider when purchasing a pair of racquetball shoes. Unless you are prepared to spend the money on a new one every couple of months, you should consider saving up some money and purchasing a quality pair that is durable and can withstand tough matches that require a lot of movement. 
Comfort
The level of comfort is absolutely crucial aspect when purchasing racquetball shoes, whether you are a casual player or a professional. Pick the pair with a quality midsole that will provide your ankles and heels with adequate cushioning that will reduce the chances of injuries and keep you comfy during a match.
Stability
One important consideration that is often overlooked when making this purchase is stability. It is often sacrificed over mobility, especially in pairs that are designed for professional players, which leaves amateur and casual players at the risk of injury. It is wise to purchase a pair of mid-top racquetball shoes that offer excellent ankle protection to avoid this issue.
Cut
Same as tennis players, racquetball players require a lot of ankle support from their footwear. The rolled ankle is one of the most common injuries in this sport; thus, you require a mid or high-top pair of shoes to reduce unnecessary risks.
Frequently Asked Questions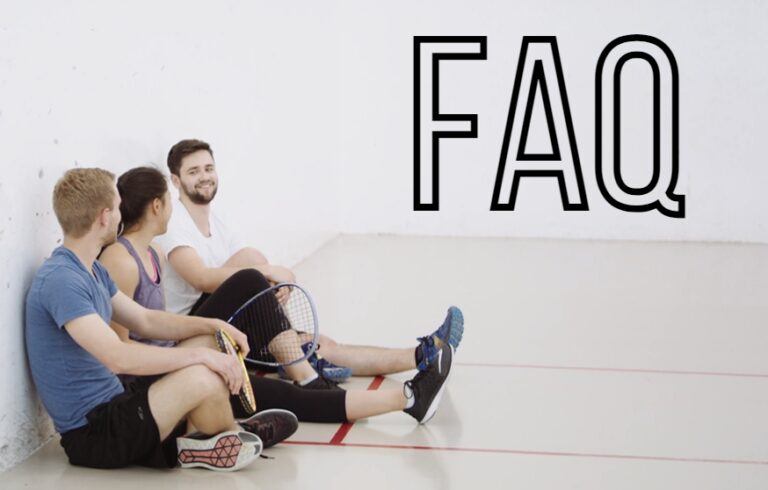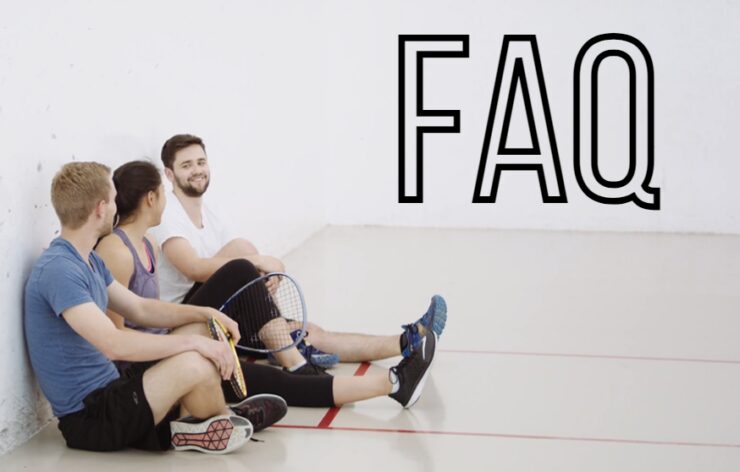 Can I play racquetball in tennis shoes?
It is not recommended to do this due to the risk of injuries. Racquetball courts are generally smooth and smaller, which increases the chance of slipping and falling if you do not use adequate pair of shoes that offer suitable traction.
Which shoes are best for racquetball?
Since racquetball is played indoors on slippery and smooth courts, it is best to choose quality shoes that are meant for this type of use. However, if you cannot get your hands on a good pair, you can also wear basketball or tennis shoes as well.
Why should I keep a pair of racquetball shoes for indoor use only?
If you are an active racquetball player, it is essential to keep a pair for indoor use only since the gum soles on the bottom of the shoes can get worn out and collect layers of dust which will reduce traction.
Can I wash my racquetball shoes in the washing machine?
They can be washed in the washing machine, but it largely depends on the material and overall quality of the shoe. The safest course is to read the manufacturer's instructions to ensure that product is machine washable.
Which brands have the best racquetball shoes?
All the products we have listed come from the trusted brands that produce excellent racquetball shoes, among which the more notable ones are New Balance, Asics, Adidas, HEAD, and Wilson. 
Final Words
Racquetball shoes are not only an excellent choice for this sport, but they are also great for other indoor sports, jogging, or casual walks, making them a worthy investment of the money.
There are numerous brands that will offer you excellent comfort, traction, and fit, so make sure to read our guide carefully before spending money because you will surely find your favorite among our picks.
Take a look at these racquetball shoes that are available right now on Amazon:
Sale
Bestseller No. 1
ASICS Men's Upcourt 5 Volleyball Shoes, 9.5, Black/White
Breathable mesh underlays:
Supportive midfoot panels:
Durable toe and heel counter:
Sockliner: The sockliner is produced with the solution dyeing process that reduces water usage by approximately 33% and carbon emissions by approximately 45% compared to the conventional dyeing...
Sale
Bestseller No. 2
ASICS Men's Gel-Rocket 10 Volleyball Shoes, 11.5, Black/Shocking Orange
Breathable mesh upper:
GEL technology: Improves impact absorption and creates a softer feeling at footstrike.
Trusstic System technology: Reduces the weight of the sole unit while retaining the structural integrity of the shoe.
Flex grooves in the outsole: Improves flexibility.
Wide fit: Improves flexibility.
Sale
Bestseller No. 3
Bestseller No. 4
Sale
Bestseller No. 5
ASICS Men's Gel-Furtherup Volleyball Shoes, 12, White/Black
Synthetic Leather and Mesh Upper: Lightweight, comfortable and breathable, enhancing performance and fit.
GEL Technology: Cushioning provides excellent shock absorption
Stable Construction: Lateral wrap-up outsole construction in the forefoot improves stability
Trusstic System technology: Reduces the weight of the sole unit while retaining the structural integrity of the shoe.
Gum rubber outsole: Improves grip on court surfaces
Sale
Bestseller No. 6
ASICS Men's Netburner Ballistic FlyteFoam 3 Volleyball Shoes, 10.5, White/Gunmetal
FLYTEFOAM Propel technology cushioning: Increases impact absorption and responsiveness.
TWISTRUSS technology: Improves quickness and cutting motions.
3D SPACE CONSTRUCTION feature: Improves stability.
X GUIDANCE technology: Improves flexibility.
The sockliner is produced with the solution dyeing process that reduces water usage by approximately 33% and carbon emissions by approximately 45% compared to the conventional dyeing technology:
Sale
Bestseller No. 7
Bestseller No. 8
Bestseller No. 9
FitVille Wide Pickleball Shoes for Men White Tennis Shoes Sneakers for All Court Racquetball...
TORSION-RESISTANT & NON-SLIP OUTSOLES: Upgraded Outsoles with improved performance provide you solid gripping and motion stability. The Dual Density EVA and anti-torsion TPU features durability and...
SHOCK ABSORPTION MIDSOLES: EVA mid-soles act as shock absorbers and reduces impact from intense motion while providing maximum comfort and cushion.
ERGONOMIC ORTHOLITE INSOLES: OrthoLite insoles enhance stability and facilitate natural foot motion for shock absorption and pain relief. Breathable material promotes air circulation with superb...
UPGRADED BREATHABLE UPPER: With an upgraded breathable upper, your feet will remain cool and dry after hours of intense rally.
ROOMY TOE BOX: FitVille shoes are designed for wider feet, more flexibility in the forefoot allows your foot to move more fluidly.
Sale
Bestseller No. 10
adidas Men's GameCourt 2 Tennis Shoe, White/Core Black/White, 9.5
Men's tennis shoes with a padded collar and a durable outsole
BREATHABLE UPPER: Open mesh upper is breathable and flexible
LIGHTWEIGHT MIDSOLE: EVA midsole provides lightweight cushioning
ADIWEAR OUTSOLE: Adiwear outsole offers the ultimate in high-wear durability
MADE WITH RECYCLED CONTENT: Made with a series of recycled materials, this upper features at least 50% recycled content. This product represents just one of our solutions to help end plastic waste