Nike is surely one of the most popular shoe brands in the world. Ever since Bowerman and Phil Knight founded the company, it was competing with the world's most renowned sports gear brands.
Over the course of years, they started producing tennis gear, and in this article, we are going to take a look at some of the best Nike tennis shoes the money can buy.
In the section below, we have chosen some of the best-reviewed products for different tennis courts that will surely suit your needs and improve your gameplay performance.
List of Best Nike Tennis Shoes
1. Nike Men's Court Lite 2 Tennis Shoe – Editors Pick
Nice Court Lite 2 are tennis shoes that perform excellently on hard courts and look visually appealing so that you can wear them off the court as well. They are available in 5 different colors and a variety of sizes you can choose from.
Nike reinforced the outsole section of these shoes by using environment-friendly green durable rubber that is highly resistant to abrasion, and it is designed to meet the demands of hard courts. This shoe's outsole provides you with excellent traction and offers you stable footing throughout demanding tennis matches.
Cushioning is excellent, and the midsole boasts lightweight phylon, made EVA foam pellets. The midsole is not too firm or too soft and grants you excellent cushioning during landing and lateral movement. The heel is raised, which drastically improves rear-end padding.
The upper consists of synthetic leather and mesh that are very breathable and durable. Double stitching ensures that the upper stays intact during long matches or training sessions.
Pros
Very supportive
Thinner padding on the collar for better maneuverability
Suitable on and off the court
Very good traction
Cons
A bit tight out of the box and require breaking in
2. Nike Air Zoom Vapor X – Most Durable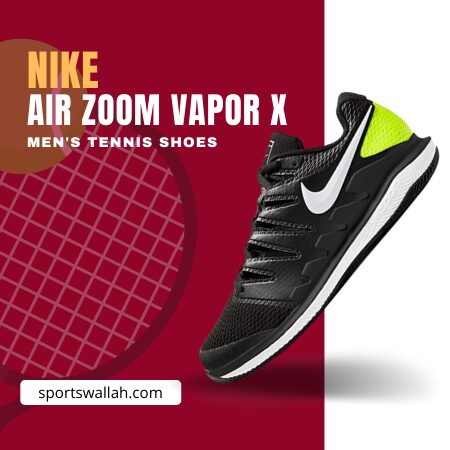 Nike Air Zoom Vapor X is a very light and breathable model that is highly functional and visually appealing. One of the biggest differences between these shoes and others from the Vapor series is the design of the outsole, and Vapor X features a thicker tread pattern in the areas that are prone to wear.
These shoes are very durable without having to sacrifice lightweight and responsiveness. They are slightly wider than 9.5s, and the lacing system helps you adjust the fit the way it suits you best.
Air Zoom Vapor X is very supportive and grants you excellent response time. The inside of the air chamber consists of fibers that compress every time you land on the ground, and they spring back to their normal state, which grants you extra explosiveness throughout the game. Stability is one of the key characteristics of Air Zoom Vapor Xs. They feature Dynamic Fit System, which provides a form-hugging fit.
Pros
High breathability
Durable
Lightweight
More comfortable than predecessors
3. Nike Men's Air Monarch IV Cross Trainer- Best for Professional Athletes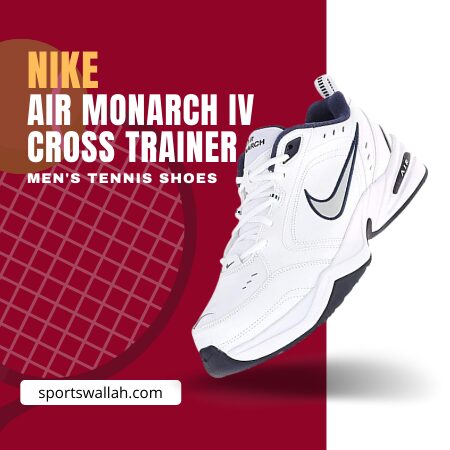 Air Monarch IV is a shoe suitable for professional athletes, fitness enthusiasts, and casual wearers. It is a great mixture of style and performance, and with its visually appealing design, it can fit you both on and off the court.
Apart from its retro looks, this shoe offers a variety of useful and comfy features that you can rely on. Its rubber outsole extends all the way to the toe box, which grants you excellent protection from unnecessary injuries. It features a multi-pattern tread suitable for multiple surfaces and enables you to switch directions quickly and effectively.
The midsole boasts a full-length phylon that is lightweight and very reactive. Phylon is made of EVA foam pellets which are very popular and used in shoes to add durability.
These shoes feature Air-Sole technology, which absorbs impact and immediately returns to its original state. The upper is a bit stiff, and it is entirely made of synthetic leather, while the mesh tongue is highly breathable.
Pros
Very comfortable
Suitable for multiple sports and uses
True to the size
Visually appealing
Cons
Midsole produces squeaky noise
4. Nike Air Zoom Vapor Cage 4 – Best for Hard Courts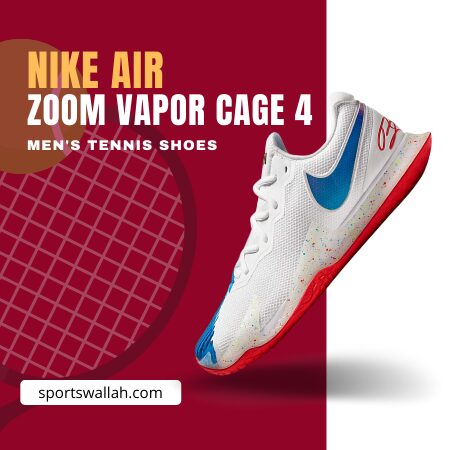 Nike Air Zoom Vapor Cage 4 is an excellent-looking pair of tennis shoes that provides you with top-notch stability, durability, and comfort. It is an excellent choice for hard courts and grants you suitable traction and performance.
The bottom level of the shoe is constructed with a generative rubber design. This construction helps boost your agility and makes you more mobile on all types of hard courts, even concrete, making it an excellent choice for aggressive players no matter the skill level.
Zoom Air unit is made of pressurized air with tensile fiber, which is one of the highlights of the Cage collection. The midsole protects you from injuries, and its cushioning system reduces the impact upon the landing, which is way more effective than its predecessors.
Same as other shoes from the Cage line, Vapor 4s are highly stable, durable, and provide you with excellent balance during side-to-side movements. The upper is very comfortable and grants you a unique bootie feel.
Pros
Well protected
Highly stable
Flexible
Excellent cushioning
Excellent choice for hard courts
5. Nike Men's Tennis Air Zoom Zero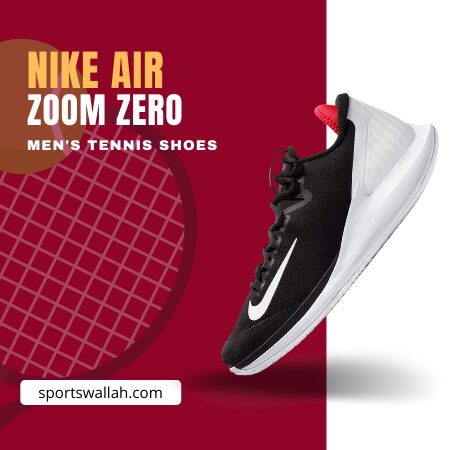 Nike Air Zoom Zero is a shoe suitable not only for tennis but also for numerous other sports. It is an excellent mixture of cushioning and speed, which is very important for long and exhausting tennis matches.
Although it is not the most breathable model from Nike's tennis collection, it does an excellent job with underfoot comfort and overall stability. It is highly praised for its shock absorption, which ensures top-notch maneuverability.
The shoe features a refined outsole which grants better contact with the court since it features heel-to-toe transition and enables the wearer to move at a more natural pace. The grip is designed with a triangular pattern that will provide you with a suitable grab and grip.
The fibers that make cushioning pack together to their original state every time your feet land on the ground and grant you snappy response and quick rebound, which is one of the most important qualities of a tennis shoe.
Pros
Excellent cushioning
Versatile both on and off the court
Superb traction
Lightweight
6. Nike Men's Tennis Air Max Vapor Wing MS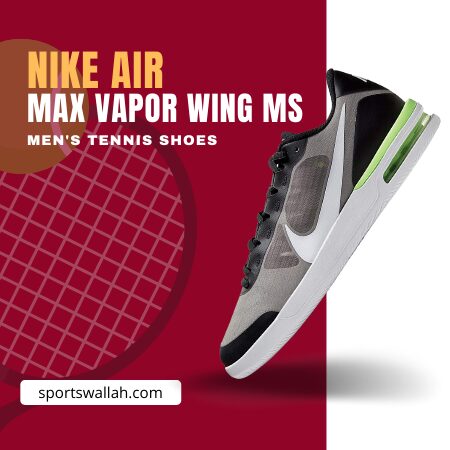 Air Max Vapor Wing MS is a tennis shoe available in three different colors and a variety of sizes for you to choose from. They are true to size and visually appealing both on and off the tennis court.
These shoes have the same rubber compound as the NikeCourt Air Zoom Vapor X that features high-wear perimeter zones, and both are toughened by heavy-duty rubber, which grants them excellent longevity and durability.
The outsole generates sufficient grip, which is best highlighted when breaking, sliding, and cutting. The middle section is designed to reduce the weight and encourages the player to make more agile moves during tennis matches.
The shoe offers top-notch shock absorption and responsive cushioning. The ventilation and breathability are excellent, and the Air Max unit is placed right below the heel. This membrane is filled with air that reduces shock before it gets in contact with the foot.
Pros
Superb cushioning
Lightweight
Excellent breathability and ventilation
Cons
The shoe is tight around toebox
7. Nike Air Max Wildcard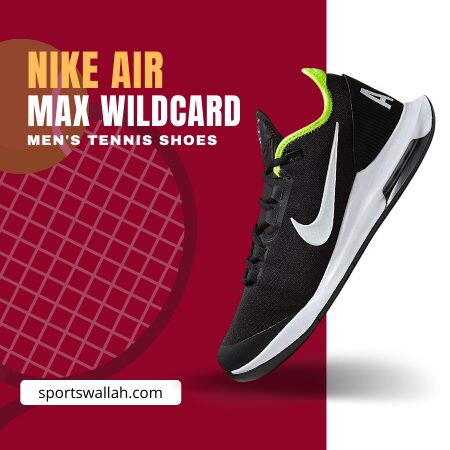 Nike Air Max Wildcard is an excellent all-court shoe that provides you with excellent comfort and cushioning. This shoe features a minimalistic appearance and provides you with superb support and high performance.
It is a shoe that works excellently on various court surfaces and suits different types of players, both casual and advanced. The base of the shoe features a tread design that stretches around the whole medial section. This feature is excellent for delaying signs of abrasion, which can happen when you make fast direction changes.
The midsole consists of lightweight lunarlon foam that is designed to provide you with highly responsive cushioning. It also boasts crash pads that improve cushioning even further and help you achieve a heel-to-toe feel.
The heel of the shoes has a Max Air bubble that offers you a level of comfort that is similar to the Nike Zoom Air collection.
Pros
Superb lateral support
Excellent fit
Improves your hard cuts
8. Nike Men's Acalme Sneaker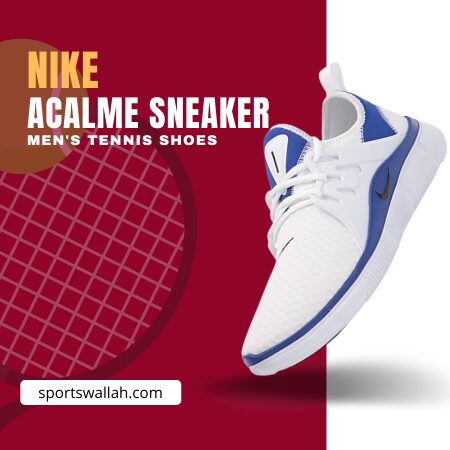 Nike's Acalme combines futuristic and classic design and provides you with comfort and high performance both on and off the court. They are very versatile and suitable for sports and casual wear since they are very appealing.
These shoes have a traditional lacing system and grant you a secure and snuggle fit. The upper features textured and breathable mesh and offer better air circulation and durable comfort.
Nike Acalme's midsole boasts tri-fusion foam that grants you very responsive foam. The lining fabric in the injected unit is soft and breathable, and cushioning is flexible and lightweight.
The bootie construction embraces feet and provides them with a more secure fit. The bottom of the shoe features a rubber sole that enhances traction on various surfaces and grants flexible grip in all directions.
Pros
Visually appealing
Lightweight but sturdy
Excellent arch support
Stylish
Cons
These shoes require a break-in period
Buying Guide for Nike Tennis Shoes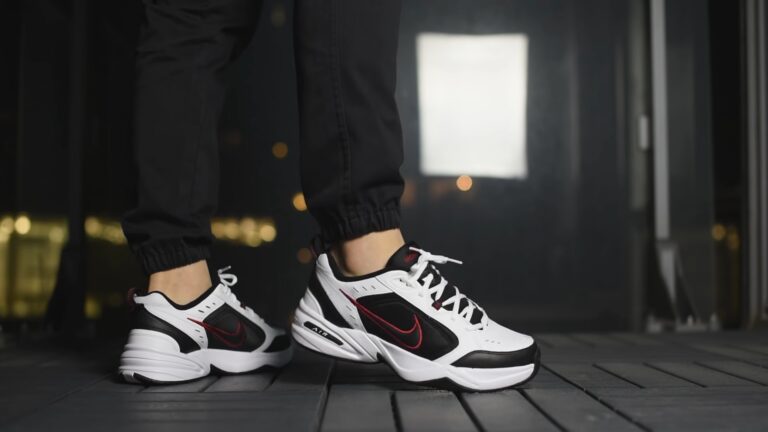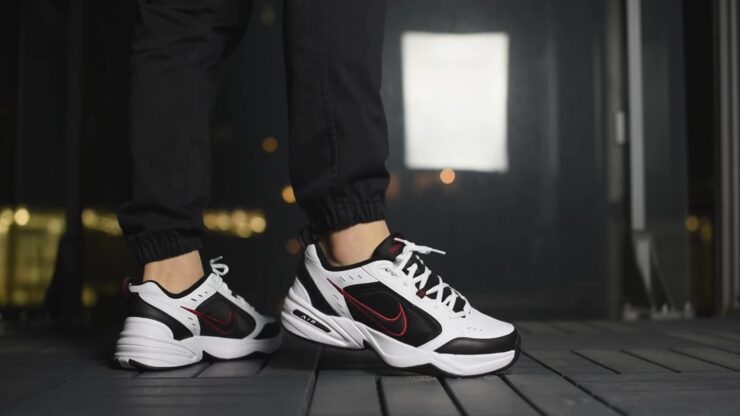 Whether you are a devoted user of Nike's tennis shoes or you want to purchase them for the first time, you are required to do thorough research and consider numerous details to get the best product. In the section below, we have listed guidelines you should follow in order to get the most valuable Nike tennis shoes for your money's worth.
Type of Court
One of the first things you need to determine is the type of court you will be using the shoes on. Different court types such as hard, clay, or grass require different traction and feet protection levels. Hard courts require better cushioning and shock absorbent midsoles, while clay courts require outsoles with zig-zag patterns. Grass courts, on the other hand, require shoes with pimples on the outsole, and they are only suitable for this type of surface.
Durability
Since you will make hard cuts and change movement direction often, it is essential to purchasing a pair of tennis shoes that can take a lot of beating. Pick a pair that is made of durable materials to prevent abrasion and prolong the lifespan of the shoe.
Playstyle
When you are purchasing tennis shoes, one of the main considerations you should make is whether or not they fit your playstyle. If you run and move very fast, your shoes should differ from the ones that hard-hitting baseline players use. Also, consider what type of ankle support require because different playstyles require different feet protection.
Fit
Before you purchase Nike tennis shoes that will suit you best, it is important to measure your foot correctly. If you fail to do so, you will never reach the optimal comfort level and risk unnecessary injuries throughout games and training sessions.
Frequently Asked Questions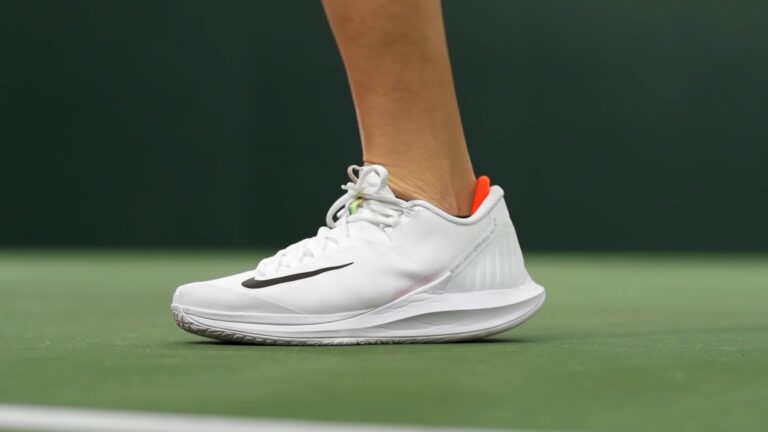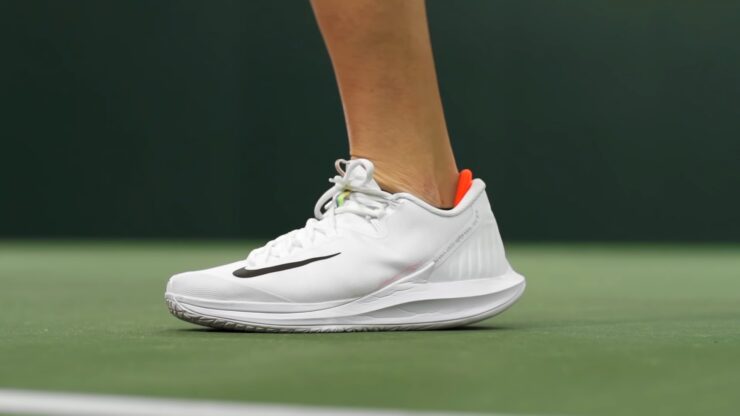 Should tennis shoes be tight or loose?
The best pair of tennis shoes should provide you with an excellent, cozy fit. They should never be too tight or too loose since the perfect fit enables you to move easily on the court and switch directions smoothly without risking injuries.
How often should I change tennis shoes?
This largely depends on how often do you play. Typically it takes somewhere between 45 and 60 hours before the midsole gets worn out. For example, if you play tennis once a week for an hour, you should switch your tennis shoes once in twelve months.
How do you notice if the tennis shoes are worn out?
When you notice that the treads on the soles start to wear off, it is time to switch your shoes. Typically, cushioning and shock absorbency last much less than soles, so it is definitely time to look for a new pair if you notice that they are worn off.
Does the surface you play tennis on affect the pace at which they get worn?
Absolutely. Hard courts will wear off your shoes at a much faster pace than grass courts, but your playstyle is an even bigger factor. The harder cuts and direction changes you make, the more your shoes will wear.
Do tennis shoes require a break-in period?
It depends on the fit. If you measure your foot correctly, you will be less likely to require a break-in period. However, some tennis shoes have a specific design, and even when you make measurements right, you still need some time to break in fully.
Final Words
Nike's worldwide popularity speaks volumes about the quality of their sports gear, and their tennis shoe collections are no different. This type of shoe requires a true-to-size fit and numerous features that will improve your on-court performance, so picking a suitable pair might prove a challenging task.
We hope our article, list, and guide will help you narrow down your search to the best pair that will suit your needs. Pay attention to minor details, and look for second opinions and good reviews because only then will you find the pair that will fit you best and grant you excellent on-court results.
FAQ:
Q: What is the best brand of tennis shoes?
A: Skechers is a company that is known for its trendy athletic shoes. The company has always manufactured some of the best looking tennis shoes and even today continues to set new standards with the use of cutting edge technology to manufacture their shoes.
Q: What are the best shoes to play tennis in?
A: Bestcovery rates the K-Swiss Defier miSOUL Tech as the best tennis shoe for women. This shoe is comfortable, supportive and has interchangeable insoles. Bestcovery also recommends the Wilson Women's Tour II Tennis Shoe. This shoe is comfortable, has excellent arch support, and is lightweight and breathable.
Q: What is the lightest tennis shoe?
A: Weighing in at 12.5 ounces for a men's size 9, the Feather III isn't the lightest tennis shoe on the market, but it's pretty close.
Q: Which shoes are better Nike or Adidas?
A: Nike has better shoes than Adidas. Nike has an overall better selection of gym shoes, cleats, and basketball shoes than Adidas. They have wider variation of types of shoes which ranges any where from boots, to basketball shoes. They also are endorsed by more higher profile atheletes than Adidas does.