At the ongoing Women's World Boxing Championship in Istanbul, Nikhat Zareen, Parveen and Anamika from India reached the quarterfinals by winning their respective matches in the prequarterfinals. With this, 7 boxers from India have reached the quarterfinals.
In the pre-quarterfinals of the 52 kg weight class, Nikhat defeated Lutsaikhan Altansetseg of Mongolia 5-0 one-sidedly. Nikhat, the 2019 Asian Boxing Championships bronze medalist, was aggressive from the first round. He got the support of 4 out of 5 judges. She also dominated the Mongolian boxer in the second round and was voted in her favor by 4 out of 5 judges.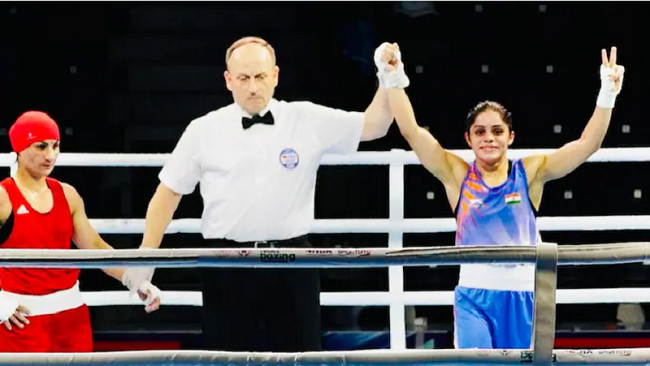 While Nikhat continued to attack Lutsaikhan with his punches and won the match 5-0. In the quarterfinals, Nikhat will face England's Charlie Davison, who defeated Togo's Hannite Kayla.
Parveen defeated former junior Olympic champion
At the same time, in the last 16-round match of the 63 kg weight class, Parveen defeated former junior Olympic champion Jazeera Gonzalez of America 5-0. Taking advantage of her tall stature, Parveen did well against Jazeera in the first round and she managed to impress all the judges.
World Boxing Championship 2023: Four Indian players in…
World Boxing Championship 2023: Indian players in action...
Jazeera looked very aggressive, but Parveen successfully dodged her and hit the right moment with her long hands. It was also almost the same scene in the second round.
Jazeera got more aggressive this round trying to come back, but Parveen kept her composure. Parveen defended well in the third round and recorded a one-sided win.
However, in the next round, Parveen will face Tajikistan's Shoira Zulkanarova, who beat South Korea's Heiden Jeong 3-2.
Anamika defeated the World Championship bronze medalist
Anamika (50kg) defeated Australian bronze medalist Christie Lee Harris 5-0 at the World Championships. In the third round, Harris tried to come back, but Anamika had no chance and came out the winner.
Now Anamika will face Rio Olympic bronze medalist Ingrid Valencia of Colombia in the quarterfinals. He is scheduled for Monday.