Dwight David Howard is 6 feet 10 inches tall and weighs 120 kg, he is one of the best players in the National Basketball Association (NBA). He is a professional basketball player from the United States of America. Dwight David began his professional career in 2004. Howard's first NBA team was the Orlando Magic.
He played for 8 years in the Orlando Magic. Dwight David Howard's current NBA team is the Los Angeles Lakers. Howard is a very successful and popular basketball player all over the world.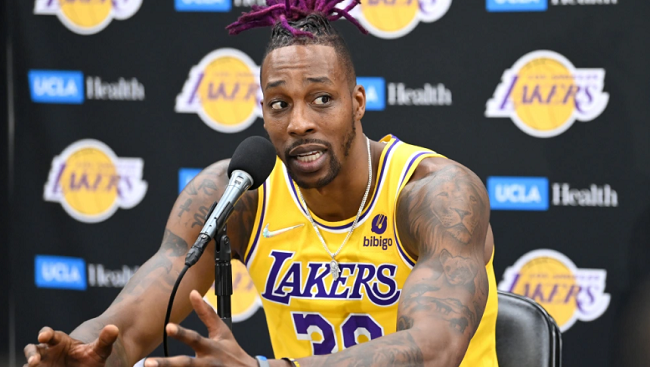 Dwight David HowardWiki
Nationality- United States of America
nba team– Los Angeles Lakers
Birthday date– December 8, 1985
Place of birth- Atlanta, Georgia, United States
nba draft– 2004
Dwight David Howard: Interesting Facts
List of the 20 best ranked transfers for 2023
Wizards vs Mavericks will be released tomorrow for the NBA!
Howard is the winner of the All-Star Games- 8 times
All-NBA Team Honoree- 8 times
Member of the All-Defensive Team- 5 times
Defensive Player of the Year- 3 times
Dwight David Howard: Achievements
David Howard's achievements as a US Representative-
Olympic Games 2008 (Beijing)- Gold medal– Team competition
2007 FIBA ​​Americas Championship (Las Vegas)- Gold medal– Team competition
2006 FIBA ​​World Championship (Japan)- Bronze medal– Team competition
Dwight David Howard: Why in the news?
American international basketball player Dwight David Howard came to Kashi seeking peace. In Kashi, he prayed for peace and tranquility throughout the world on the banks of the life-giving Ganges. He learned why Kashi from Baba Vishwanath, situated on the banks of the Ganges, is called the city of salvation. Why are cremations held here 24 hours a day? Why did Lord Buddha give his first sermon at Sarnath, Kashi?
American basketball player Dwight is on a trip to India these days. After reaching Kashi, he saw the world famous Ganga Aarti of Dashashwamedh Ghat and also got a tripund on his forehead. After this, he sailed down the Ganges. Then, he went to the local shops to buy Banarasi saris and kurta-pajamas.
May there be peace like Kashi throughout the world.
Dwight said: You have come on a spiritual journey to Varanasi. Coming here you have found great peace and comfort. This peace should be in the whole world. He joined Ganga Aarti and prayed for his close relatives and those whom he does not know.