Spain's Carlos Alcaraz is emerging as a big player in world tennis. Carlos Alcaraz stunned Rafael Nadal first, and then Novak Djokovic, for two days in a row at the clay-court Madrid Open. In the final of the tournament, the 19-year-old Alcaraz defeated defending champion Zverev 6-3, 6-1 to clinch the tournament.
After losing to Alcaraz in the semi-final match, Djokovic was also very impressed with him. Djokovic said that the way Alkaraz handled the pressure is commendable and his maturity in the game at such a young age amazes me a lot.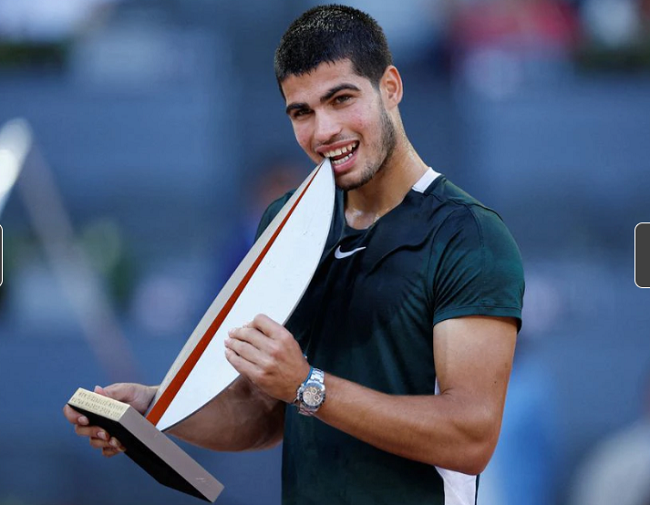 Carlos Alcaraz: Records
After defeating Djokovic at the age of 19, Alcaraz became the second-youngest player to beat the world's No. 1 player. Now this record is in the name of Nadal, who defeated Roger Federer in 2005 at the age of 17 at the French Open.
Alcaraz is the youngest player since Nadal to reach the ATP top-10 rankings.
Alcaraz is the first player to defeat Nadal on a clay court. Prior to this, Nadal's record in clay court was 20-0 against any teenager.
Carlos Alcaraz: Wiki
Madrid Open 2023: Winners List
French Open 2023: Starting Date, Venue, and Complete…
Carlos was born on 5 May 2003 in Spain. He started playing tennis at the age of 4. His inspiration was his father, Carlos Alcaraz Gonzalez, who was the top-40 tennis player in Spain.
Alcaraz is coached by top-seeded former player Juan Carlos Ferrero. Under his guidance, Carlos started playing professional tennis at the age of 15. Alcaraz is one of the few players in tennis history who did not lose in the first round of his debut Grand Slam.
Carlos Alcaraz: Achievements
Alcaraz won the Croatia Open in July 2023. This was his first ATP title. After this, Alkaraj also reached the second round of Wimbledon and the quarterfinals of the US Open.
Alcaraz reached the third round of the Australian Open in early 2023 and won the Rio Open the following month.
He won his first ATP 1000 title by winning the Miami Open in April. Alcaraz is the youngest male player to win the Miami Open.
After a second-round exit at the Monte Carlo Masters, Alcaraz won the Barcelona Open to finish in the top-10.
In May he won the Madrid Open, defeating both Nadal and Djokovic.
Did You Know?
Alcaraz became the first player to defeat both Nadal and Djokovic on clay court.