How to Watch IPL in USA: Being an IPL fan many may miss the live streaming of their favorite matches mainly without knowing the proper knowledge on the live streaming services for their location.
Particularly the cricket fans from the United States of America(USA) may miss the IPL live streaming owing to the announcement of withdrawing Hotstar service at their location. But still, the IPL fans from the USA can view the online streaming of cricket content legally!!
Here we are going to discuss the possible way to stream the IPL tournament – ​​one of the world's favorite cricket leagues.
How to Watch IPL in USA
Willow TV
Willow is the only 24×7 live cricket channel in the USA, with several hundred days of live cricket covered annually.
Willow has exclusive agreements to be the official broadcaster of The International Cricket Council (ICC), Indian Premier League (IPL), England Cricket Board, Cricket Australia, Cricket South Africa, West Indies Cricket Board, Sri Lanka Cricket, Bangladesh Cricket Board, Pakistan Cricket Board, Zimbabwe Cricket, Pakistan Super League and others.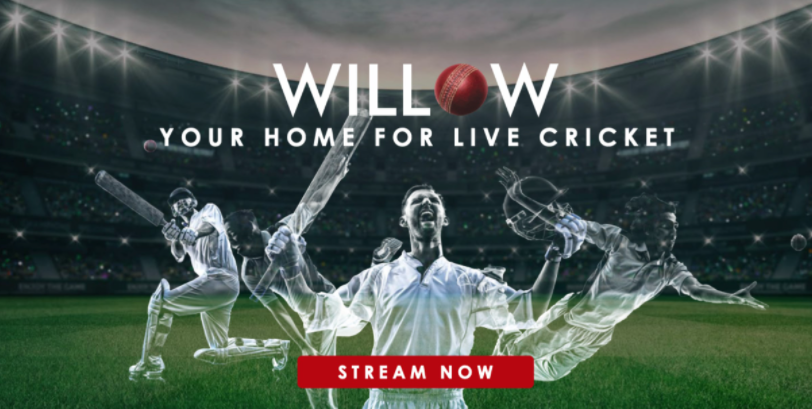 The channel is available on most Satellite and Cable Networks for a simple monthly subscription fee or as part of Sports Packages or South Asian packages.
| | |
| --- | --- |
| Satellite & Cable Networks | package |
| Dish | Available at 712 (Willow) and 9997 (Willow HD). Also available as part of Hindi Mega Pack, Hindi Elite Pack, Urdu Pak Mega Pack, Bangla Mega Pack, Punjabi Mega Pack, Tamil Mosaic Pack, and Telugu Package. Call 800-823-4929 or click here for more details. |
| fios | Available at Channel 806 and as part of the Sports Pass. For more details, click here or call 800-837-4966. |
| Sling | Get Willow a-la-carte or as part of Hindi, Telugu, Urdu, Tamil, and Bangla packages. Click here for detailed information or call 1-855-372-8004. |
| spectrum | Available as part of the Spectrum TV Gold package. Go to spectrum.com for more information or to sign in to your Spectrum account. |
| Google Fiber | Available on channel 244, as part of the Premium & Sports Packages. Click here for more information or Sign in to the Google Fiber website at google.com/fiber or call (866)777-7550 to add Premium & Sports Packages. |
| Xfinity | For more details, click here. Call 800-266-2278 for more information. |
| Optimum | Available at channel 1171. Part of the Hindi Pack and the Optimum Sports Pack. For more details, click here or contact Cablevision support for more details. |
| Century Link | Available at 668 (Willow) and 1668 (Willow HD). For more details, click here or call 1 (800) 244-1111. |
How to Watch IPL in USA Online?
So far Hotstar is the only possible way to stream the IPL contents to the USA. But Hotstar decides to end its services in the United States of America. It is already known that the streaming service has become a part of Disney+ a couple of years back. Now, platforms like Hulu and ESPN+ will share the content of Hotstar in the US.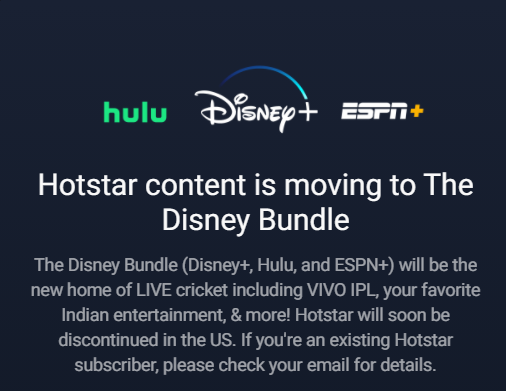 Disney, which has over 174 million subscribers combined across four of its streaming services, Disney+, ESPN+, Hulu, and Hotstaris now looking to consolidate the entire content into a single bundle.
The sports content from Hotstar will now move to ESPN+ and all the movies and TV series will be migrated to Hulu.
How to Watch IPL in USA – This means Hotstar's exclusive sports events like IPL will now be streamed on ESPN+ in the US and Hotstar originals can be watched on Hulu.
Currently, Hotstar annual subscription costs $49.99 (Rs. 3,650 approx.) per year. Disney's new bundle plan will cost $13.99 (Rs. 1,020 approx.) per month, and at least $167.88 (Rs. 12,260 approx.) for a year.
Hotstar users will also get a redemption code to avail of an offer that shifts their subscription to the Disney bundle at no cost.