Bengaluru Bulls and UPYoddha are the professional Kabaddi teams that host Season 8 of the Pro Kabaddi League. Bengaluru Bulls were champions in season 6, the team's coach is Randhir Singh. UPYoddha represents the state of Noida, Uttar Pradesh. This team was introduced in the fifth season of the PKL and is owned by GMR Group. Check the Bengaluru Bulls vs UP Yoddha prediction.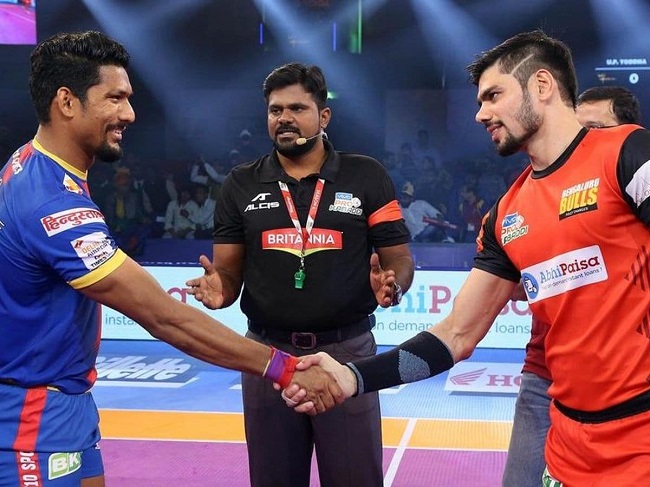 Bengaluru Bulls v / s UP Yoddha Dream 11 Prediction
Bengaluru Bulls and UP Yoddha are playing their 8th, 44th match of the Pro Kabaddi League season. Both teams are Indian professional Kabaddi teams. The match between Bengaluru Bulls and UP Yoddha is very interesting to see if UP Yoddha can defeat Bengaluru Bulls. PKL Season 8 Bengaluru Bulls is in second position and UP Yoddha is in ninth position. It is very exciting to see how these teams play against each other and how well they perform with their skills.
Bengaluru Bulls v / s UP Yoddha Head to Head
The matches played by Bengaluru Bulls are 7 of which they won 5 matches, 1 loss and 1 draw. Currently, they are in the 2nd position. while the games played by UP Yoddha are 7 of which he won 1 game, 4 losses and 2 draws.
Bengaluru Bulls v / s UPYoddha Playing 7
Bengaluru bulls: Mayur Kadam, Deepak Narwal, Saurabh Nandal, GB More, Pawan Kumar Sehrawat (captain), Amit Sheoran, Mahender Singh.
UPYoddha- Nitesh Kumar (Captain), Ashu Singh, Surender Gill, Ankit, Shrikanth Jadhav, Pradeep Narwal, Shubham Kumar.
Bengaluru Bulls v / s UP Yoddha Fantasy Tips
Bengaluru Bulls v / s UP Yoddha Top Raider - Pradeep Narwal and Pawan Sehrawat are the best Raiders of their respective teams. Pradeep Narwal has scored 53 points and the raid's attack rate is 47%. his score always makes the team dream high. While Pawan Sehrawat is one of the best Raider, he has scored 95 points and the raid attack rate is 65%, therefore he is part of the dream 11 team. Both players are consistent.
Bengaluru Bulls v / s UP Yoddha All Rounder - Mahender Singh is the Raider, Defender of the Bengaluru Bulls who is extremely consistent in all ways. He has taken 12 points in 6 games, the strike rate is 41%, he has made 16 Super Tackles and 193 tackle points and the total made 389 points. It is the most correctly played and selected by the dream11 prediction.
Bengaluru Bulls v / s UP Yoddha Defender - Nitesh Kumar and Saurabh Nandal, is the best defender of their respective team. Both defenders have added 18 points in 7 games, the tackling hit rate is 58% for both players.
Bengaluru Bulls v / s UP Yoddha Match Details: -
Season 8 of the Kabaddi Pro League, match number 44 Bengaluru Bulls v / s UP. Yoddha will take place on January 9, 2023 at 8:30 p.m. This match will take place in Bangalore at the Sheraton Grand, Whitefield. The game will be broadcast on the Star Sports Network and the live broadcast will take place on the Disney + Hotstar OTT platform.
Bengaluru Bulls v / s UP Yoddha, Who will win?
Both teams are great, but the Bengaluru Bulls are on top and therefore have more chances to win.