Abhishek Singh is an Indian Kabaddi player. He was born on April 3, 1999 in Bulandshahr, Uttar Pradesh. Abhishek starts his career with Pro Kabaddi Season 6 from U Mumba's side. See PKL Raider Abhishek Singh's Bio.
Since his childhood, he has always been passionate about kabaddi. He was only 14 years old when he started training and learning kabaddi at GS Kabaddi Academy in Khurja, Bulandshahr.
His impressive performances achieved through dedicated training led to his promotion to the district and state level and ultimately his efforts were not in vain when he was chosen to play for Uttar Pradesh in the nationals.
Take a look at his bio, salary and stats, everything you need to know about the kabaddi player.
Biography of Abhishek Singh
Abhishek Singh was born and raised in the Maina village of Bulandshahr. Before being selected to the UP and PKL6 national team, he played kabaddi tournaments at the village and district level.
He won many awards and trophies at the district and state level. Abhishek's debut in Pro kabaddi with season 6. Abhishek is known for quicker reflections on the mat and signature Back Hand Touch movement.
Real name
Abhishek singh
Nickname
Abhi
Profession
Indian Kabaddi Player
Height
5'8 ″ feet
Weight
68 kilograms
Body shape
Chest: 42 inches
Waist: 32 inches
Biceps- 14 biceps
Eye color
Black
Hair color
Black
Date of birth
03-Apr-99
Age (as of 2020)
21 years
Place of birth
Maina village, Bulandshahr, Uttar Pradesh
Nationality
Indian
Hometown
Bulandshahr, Uttar Pradesh
Actual city
Bulandshahr, Uttar Pradesh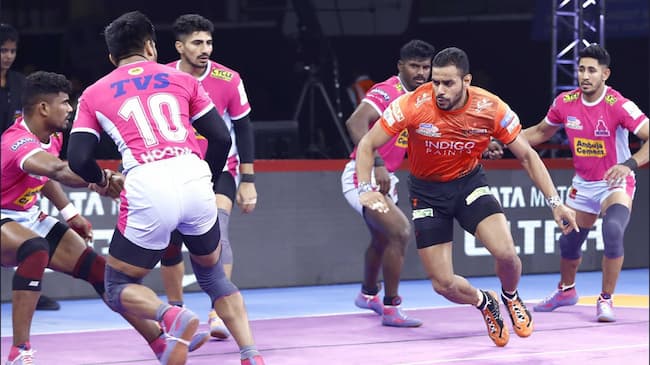 Abhishek Singh Salary
Abhishek starts his career with Pro Kabaddi Season 6 from U Mumba's side. U Mumba spent 42.80 Lakh in his season 6. He is U Mumba's highest paid raider in season 6.
He made an incredible debut with U-Mumba, where he played 15 matches making 117 raids in total and accumulated 47 raid points.
With his incredible performance in season 6 with his team. U-Mumba held him for Season 7 for 10 lacs. He has played 21 matches and made a total of 332 raids and earned 162 raid points.
The team has held him for the season for 87 lakhs.
Abhishek Singh Statistics
Raid Statistics
| | |
| --- | --- |
| Games played | Four. Five |
| Total raids | 585 |
| Raid points | 290 |
| Average time on mat (%) | 66.7 |
| Average Exit Rate (%) | 22.68 |
| Average Percentage of correctness (%) | 45.4 |
| Effective points | 168 |
Statistics to address
| | |
| --- | --- |
| Games played | Four. Five |
| Main inputs | 41 |
| Entry points | 17 |
| Average time on mat (%) | 64.63 |
| Average Exit Rate (%) | 63.02 |
| Average Percentage of correctness (%) | 77.38 |
| Average Success Assists (%) | eleven |