The ICC has published the complete schedule of the T20 World Cup 2023, this world cup will take place in Australia and starts in October-November.
This tournament will start on October 16 this year, the final match of this world cup will be played on November 13, 2023.
On October 23 at the Melbourne cricket ground, India will face the Pakistan team in the world cup, the last time Pakistan beat India in the world cup.
All the teams of the T20 World Cup 2023
12 tournament teams have been decided. The 4 teams will be decided from the qualifiers that will take place in February and July.
India
Pakistan
New Zealand
Afghanistan
Australia
bangladesh
England
South Africa
The above teams have a place in Super-12.
Namibia, Scotland, Sri Lanka and the West Indies will play the qualifiers before the main draw. The other 4 teams will also enter the playoffs.
A total of 45 matches will be played in 7 different cities from Adelaide, Brisbane, Geelong, Hobart, Melbourne, Perth and Sydney in the tournament.
T20 World Cup 2023 schedule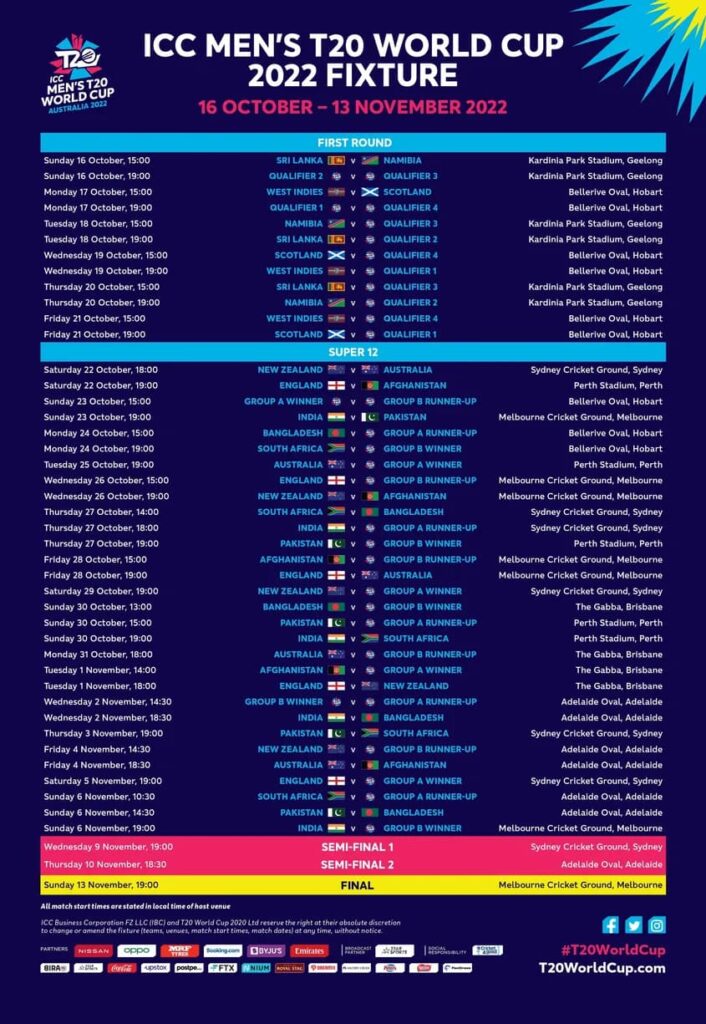 India and Pakistan meet again in the T20 World Cup 2023
In Melbourne cricket ground on October 23, 2023, India and Pakistan meet in this world cup, this match is very important for India team.
In last year's 2023, India and Pakistan are in the same group, and play against each other, in which team India lost this match by 10 wickets, this is an embarrassing defeat for India.
India has been placed in Group 2 in Super 12 along with Pakistan, South Africa, Bangladesh and two qualifiers.
The first against Pakistan on October 23,
2nd match against October 27 with the runner-up of Group A,
Third against South Africa on October 30.
Team India's fourth match will be with Bangladesh on November 2.
5 on November 6 with the winner of Group B.