Indian female boxers have confirmed 3 medals at the Women's World Boxing Championships. On Monday night, Nikhat Zareen, Manisha and Parveen won their respective quarterfinal matches. Meanwhile, they entered the semi-finals of the competition. While Pooja Rani and Neetu are out after losing.
Nikhat Zareen confirmed the first medal of the tournament. Although the semifinal matches of the competition will be played on Wednesday and the final will be played on Thursday. 310 boxers from 73 countries participate in this event.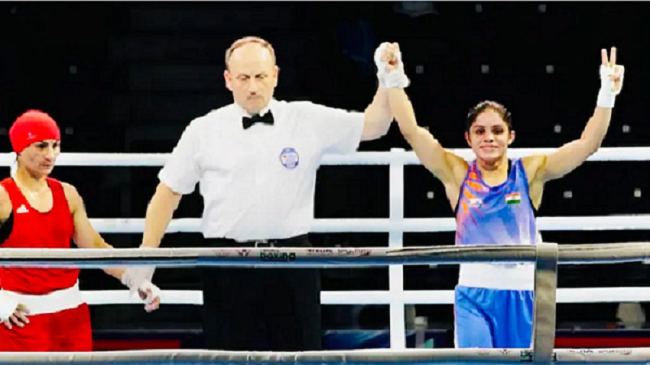 Nikhat throws punches at Charlie Taylor
He secured a one-sided 5-0 victory over England's Charlie-Sian Taylor Davison. Nikhat, a 25-year-old boxer from Telangana, once again showed excellent technique to win the country's first medal at this year's tournament in the quarterfinals of the 52kg weight class.
Women's World Boxing Championship Update: 7 female boxers...
World Boxing Championship 2023: Four Indian players in…
Nikhat's aggressive intent and equally clean attack left Davison no chance. The Indian players were in control throughout the match. Nikhat will face Caroline de Almeida of Brazil in the semifinals. Lastly, De Almeida won the silver medal at the 2018 Commonwealth Games.
Manisha won 4-1 and now faces Testa
Similarly, in the quarterfinals in the 57 kg weight class, Manisha defeated Namun Monkhor of Mongolia by a 4-1 margin. She will face Italy's Irma Testa, who defeated Sitora Turdybekova of Uzbekistan 4-1 in the quarterfinals. Manisha will compete to change the color of her medal. We inform you that in the quarterfinals, Manisha defeated Namun Monkhor of Mongolia 4-1, while Testa defeated Sitora Turdybekova of Uzbekistan 4-1.
Parveen defeated Shoira Zulkanarova 5-0
In the 63kg weight class of the competition, Parveen Hooda fiercely attacked Shoira Zulkanarova from Tajikistan. To which the boxer from Tajikistan had no answer. Parveen showed aggressiveness from the start and won the match 5-0. His next matches will be very interesting. We can also expect some medals.