Every two years world witnesses the ICC Men's World Cup, however, ICC makes many changes due to Covid -19 because of which cricket fans are really sad. Check ICC Men's T20 World Cup winners with Prize Money of all Season.
Due to this pandemic, there has not been a single T20 World Cup event in the last five years. Now, fans will witness two T20 World Cups in two years 2023 and 2023 this is good news for fans.
In the last session of the world cup in 2023, Australia is the winner who lifts this trophy, this tournament starts in 2007, the upcoming tournament is coming in Oct 2023.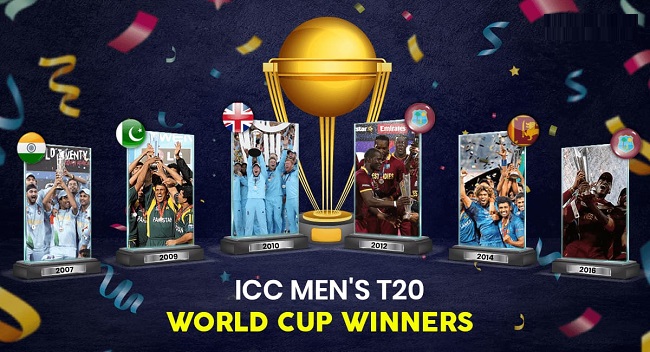 ICC Men's World Cup winners
This tournament is hosted by Australia and last year Team India lost this tournament with the bad condition their rival team beat them with 10 wickets, fans are hoping much well this year.
2007- Team India won this tournament by 5 runs against Pakistan, the host is South Africa
2009- Pakistan won by 8 wickets against Sri Lanka, the host is England
2010 England won by 7 wickets against Australia, the host is West Indies
2012 West Indies won by 36 runs against Sri Lanka the host is Sri Lanka
2014 Sri Lanka was on by 6 wickets against India. the host is Bangladeshi
2016 West Indies won by 4 wickets against England, the host is India
2023 Australia won by 8 wickets against New Zealand, the host is UAE and Oman
Prize money of all seasons in ICC Men's World Cup
The winner of this world cup will get approx USD 1.6 Million.
The team that remains Runner will get USD 800,000 amount.
That team who didn't manage to win the semifinal will get USD 400,000 per team.
The winner of the super 12 matches will get USD 40,000 per win money.
The team who will not manage to mark their place in the knockout round will get approx USD 70,000 per team.
As we don't know how many winners of 2007, 2009, 2010, 2012, 2014 have got.
In 2016 winner team got 3.5 million USD runner will get 1.5 million USD.
Winner of 2023 Australia has got 1.6 million USD and runner up New Zealand will get 800,000.