Super Smash is the men's Twenty20 domestic cricket competition of New Zealand which is running since 2005, where as women's Super Smash has been started from the year 2018-19. Check Super Smash Winners Name List, Most Successful Teams List.
There are six teams that participate in the tournament and all six teams have good strong players who work hard for their team and give their best. The matches are played for 52 days and 32 matches are played including their knockouts and only four teams get qualified for the next round.
There are some teams who have marked their name in this tournament by giving their best. So now let's check out the complete details about Super Smash Winners List, Most Successful Teams List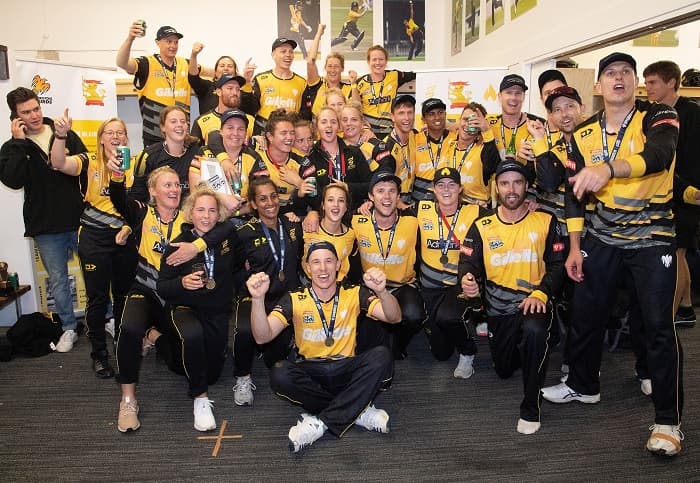 Super Smash Winners Name, Runner-ups List
Season
Winners
runner-ups
Results
2005–06
Canterbury Wizards
Auckland Aces
won by 6 wickets
2006–07
Auckland Aces
Otago Volts
won by 60 runs
2007–08
Central Stags
Northern Knights
won by 5 wickets
2008–09
Otago Volts
Canterbury Wizards
won by topping the group stage
(finally abandoned due to rain)
2009–10
Central Stags
Auckland Aces)
won by 78 runs
2010–11
Auckland Aces
Central Stags
won by 4 runs
2011–12
Auckland Aces
Canterbury Wizards
won by 44 runs
2012–13
Otago Volts
Wellington Firebirds
won by 4 wickets
2013–14
Northern Knights
Otago Volts
won by 5 wickets
2014–15
Wellington Firebirds
Auckland Aces
won by 6 runs
2015–16
Auckland Aces
Otago Volts
won by 20 runs
2016–17
Wellington Firebirds
Central Stags
won by 14 runs
2017–18
Northern Knights
Central Stags
won by 9 wickets
2018–19
Central Stags
Northern Knights
won by 67 runs
2019–20
Wellington Firebirds
Auckland Aces
won by 22 runs
2020–21
Wellington Firebirds
Canterbury Kings
won by 5 wickets
2021–22
Northern Brave
Canterbury Kings
won by 56 runs
Which Team is Successful Team in Super Smash
Auckland Aces are considered as one of the most successful teams of Super Smash as they have won four titles till now. As compared to another team this team is one of the most favorite and strong teams who work very hard and achieve their goals.
The other successful team is Wellington Firebirds after Auckland they are also one of the best Super Smash teams who give quite good competition to another team. The teams have well skills and experience which is very powerful for them.