Known for his voluminous body arts, Zlatan Ibrahimovic is unarguably one of the classiest players to have ever graced a footballing field. While his antics on the field need no introduction, his off the field frolics gets attention involuntarily. Since his Ajax days, he has been prolifically known for his astounding skills and ruthless aggression.
Besides all this, the 35-year-old has been in limelight for his comprehensive tattoos and even in his book 'I am Zlatan', he has confessed that tattoos became like a 'Drug' to him. In the same book, he quoted that even though tattoos drove him away initially, he became tempted away eventually. "I was against them in the beginning. Thought they were in bad taste. But I got tempted anyway."
But what exactly do they mean? Well, here are your answers.
Starting off from his right wrist, he has some kind of codes which actually are the birth dates of his father Sefik (23.08.1951), his big brother Sapko (30.04.1973) and his little brother Aleksander (10.07.1986). Followed by this, he has tattooed his father's name, Sefik, on his bicep and just above it, he has inked both of his sons' names; Maximilian and Vince, in an Arabic font. The reason behind inking all of his family's male is cited as it is his stronger arm.
On the left arm, same has been done. His mother Jurka (16.04.1951) and his bigger sister Sanela (19.07.1979), followed by his mother's name on his left bicep. The reason being, this arm is closest to his heart.
On the right oblique, two aces have been inked with the alphabet 'H' in the middle of it. 'H' represents his wife Helena Seger. Besides, these two cards are believed to be a good luck symbol. And just below that, a red dragon is inked. The dragon reportedly reflects Zlatan's personality. "In Japanese culture, the dragon represents a warrior, and I was a warrior."
There is another one on his stomach. 'Zlatan' is inked, which is said to be his first ever tattoo and is only visible when he is tanned, because it is portrayed in white. "My first tattoo was a white line on my belly. You could hardly see it. It was mostly a test.".
On his right shoulder, Maori symbols have been skinned and as per him,"Maori symbol protects him and his family".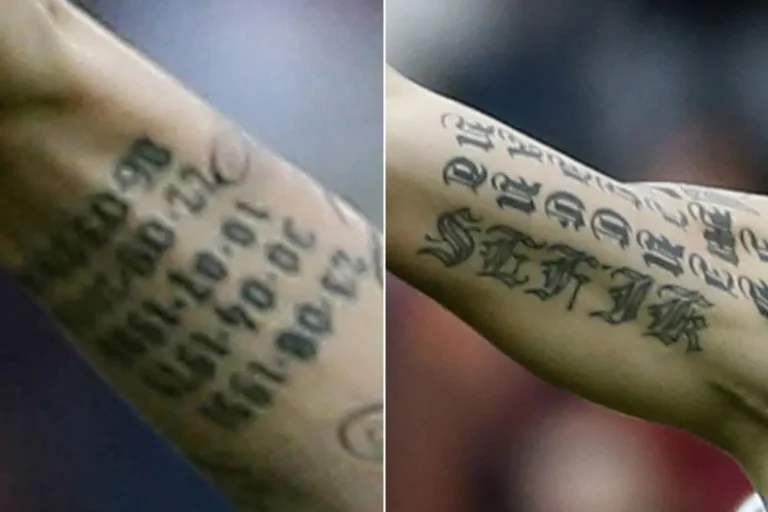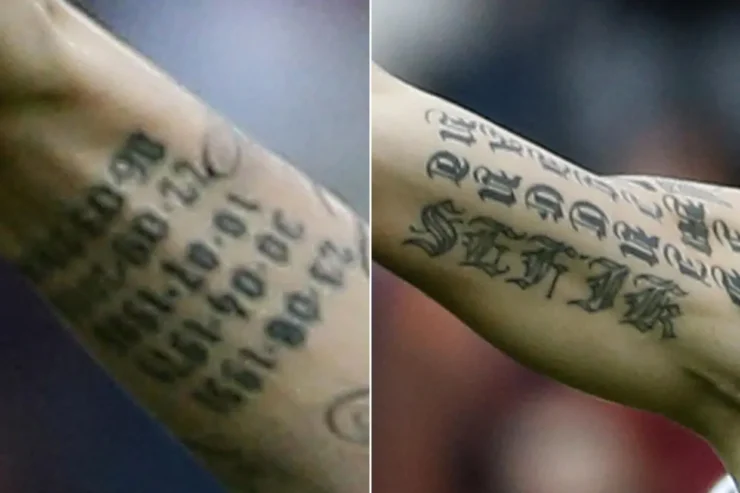 Coming on to his back tattoos, he has a grey koi fish enmarked on the upper left side of his back. "A carp, the fish that swims against the current." And that is the reason Zlatan chose to skin it. On the upper right side, he has a feather and it's meaning is still unknown. Although some sources have claimed that it has come from an eagle and represent strength and courage.
Just beside the feather, "Yant Prajao Khao Nirote" has been inked. It is said that it's a Buddhist tattoo and it ends the suffering of a family. Another one of Buddhist tattoos is the "Five Deva Faces Yantra" which represents wind, water, fire, creative perception and space and if arranged in a specific manner it protects a family from illness.
On the lower back, he has Leonardo da Vinci's design of 'Vitruvian Man', which explains a human anatomy. Besides all this, he has a tattoo on his right rib which read "Only God Can Judge Me". While explaining the reason behind it, the 35-year-old said, "The words are from a song by the rapper, Tupac. 'They could write whatever they wanted in the papers. Scream anything at all from the stands. They still couldn't get at me. Only God could judge me! I liked that."
View this post on Instagram
Everything aside, Zlatan once inked 15 anonymous names on his body and explaining the same, Zlatan, while is time at PSG, said:
"I had 15 removable tattoos on my body, they are the names of real people who are suffering from hunger in the world.
"Those tattoos have gone now, these people are still here. I hope that you can see them through me."
FAQ:
Q: What do the numbers on Zlatan Ibrahimović's wrist mean?
A: Right Wrist, Arm, and Bicep On Zlatan Ibrahimović's right wrist, there are numbers called as the "Zlatan Ibrahimović code". Actually, they refer to the birthdates of the male members in his family.
Q: Why did Zlatan Ibrahimovic get a breast tattoo?
A: The Sweden superstar made a clean breast in his book 'I am Zlatan' that getting inked "became like a drug for me". When buying a Ferrari Enzo was not all right already, Ibrahimovic said getting a tattoo provided him with a "boost" – even though he once could not hold the thought of one.
Q: Why is Zlatan Ibrahimovic's mother on the left side?
A: Unlike the men, the women of Zlatan's life are placed on the left side because they are definitely much closer to his heart and the men are on the right side because the Swedish superstar believes that represents stalwartness. On his left bicep, one can see the name of his mother in Arabic font, Jurka.
Q: What does Zlatan Ibrahimović's Ace of Hearts mean?
A: The ace of hearts features a letter 'H' inside it and this is considered to be in honor of his wife Helena Seger. The ace of clubs is apprehensively a good fortune symbol. On Zlatan Ibrahimović's right side, there is a red dragon. This dragon stands to brag out his warrior personality. Also, it is believed to have emerged from Japanese culture.