The Indian Premier League (IPL) has changed cricket in the last few years and this tournament fills the fans with excitement. Apart from this, many new players are excited to play in this tournament. There are many such matches in this tournament which are very close, while some matches are also one-sided. Let us see which are the teams that have registered the most important wins in the history of IPL.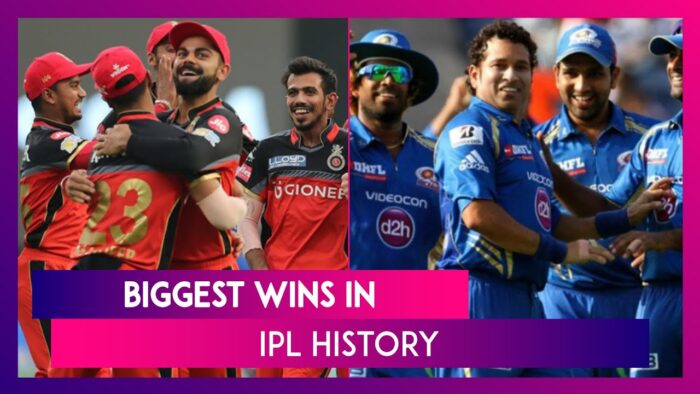 Biggest victories in IPL history
5. RCB vs PWI
In this list, RCB registered a memorable win in which Chris Gayle batted brilliantly after scoring 175 off 66 balls with the help of 17 sixes and 13 fours. RCB posted a mammoth total of 263 runs in 20 overs. Chasing the target, Pune's team could score only 133 runs and RCB won the match by 130 runs.
4. RCB vs KXIP
The King of IPL, Chris Gayle played a brilliant century for RCB in the year 2015. He played a blistering innings of 117 runs against KXIP and helped the team put up a colossal score against the opposition. RCB scored a huge score of 226 runs, after which Punjab's team, chasing the target, was reduced to 88 runs. In this match, RCB won the match by 138 runs.
3. KKR vs RCB
The Kolkata Knight Riders team is at the third place in this list. In the inaugural year of IPL, Brendon McCullum shook the ground for KKR by scoring 158 runs in 73 balls. KKR made a huge score of 222 runs in this match while RCB's team was reduced to 82 runs. KKR won this match by a huge margin of 140 runs.
2. RCB vs GL
In the year 2016, the pair of Virat Kohli and AB de Villiers troubled the Gujarat Lions team a lot. Thanks to the brilliant century innings of both the players, the team put a huge score of 248 runs in front of GL. Virat played a brilliant innings of 109 runs in 55 balls while de Villiers played an unbelievable innings of 129 runs in just 52 balls with the help of 12 sixes and 10 fours. It was a memorable victory for RCB's team, this match was won by RCB by 144 runs.
1. MI vs DC
The team of Mumbai Indians (MI) is at the first place in the record of biggest wins. MI's team scored 212 runs against Delhi Capitals (DC) in 2017, Lendl Simmons and Kieron Pollard played brilliant half-centuries for MI. Chasing the target, Delhi's team could score only 66 runs. This proved to be the biggest win for MI by 146 runs.
Here's a look at the teams that won the match with the highest margin in IPL history:
| | | | | |
| --- | --- | --- | --- | --- |
| winning team | aim | opposition team | margin of victory | Year |
| Mumbai Indians | 213 | Delhi Capitals | 146 runs | 2017 |
| Royal Challengers Bangalore | 249 | Gujarat Lions | 144 runs | 2016 |
| Kolkata Knight Riders | 223 | Royal Challengers Bangalore | 140 runs | 2008 |
| Royal Challengers Bangalore | 227 | Punjab Kings | 138 runs | 2015 |
| Royal Challengers Bangalore | 264 | Pune Warriors India | 130 runs | 2013 |
Last Updated till 15th March 2023